Marcy Power Tower TC-3508 Power Tower allows you to get everything you need for easy home exercise weight for the upper body. Time-tested brand guarantees a high-quality product. Now You will be available best exercises for a home gym.
Multi-station tower power for the home workout with exercise: knee raise, dip station, pull-up, chin-up. Non-standard triangular frame for easy placement in any corner of your apartment. Comfortable padded handle, back make the class as comfortable as possible.
Characteristics:
| | |
| --- | --- |
| Brand | Marcy |
| Length/Width/Height | 40.5 in./54.5 in./88.0 in. |
| Item Weight: | 85 lbs |
| Weight Limit | 300 lbs |
| Product Color: | black |
The model has a number of features and benefits. This is a comfortable back with a quality finish. Comfortable armrests that can be lifted when performing some exercises. The horizontal bar has a specific shape and covered with knobs. Handles for push-UPS located at an optimum distance. The roller for the legs to run soft twists. It securely locks your feet when training..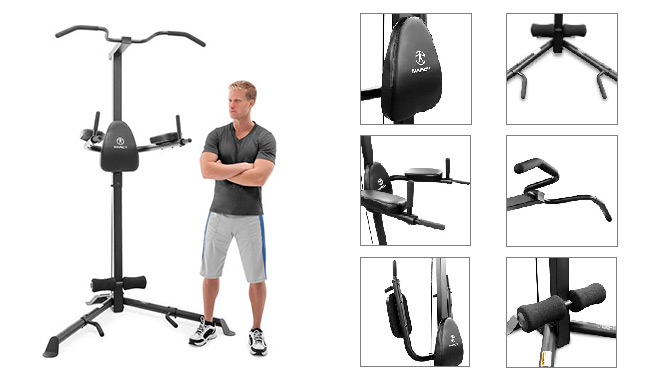 General Description
Special support for performing sit-ups comfortable and soft. This will allow you to perform exercises for the abdominal muscles. The unusual shape of the handles for different grip when pull-UPS – to divide the load into different muscle groups. To Assembly equipment is successful, we have prepared for you the instructions in pdf to view or download it:
Marcy Power Tower Workout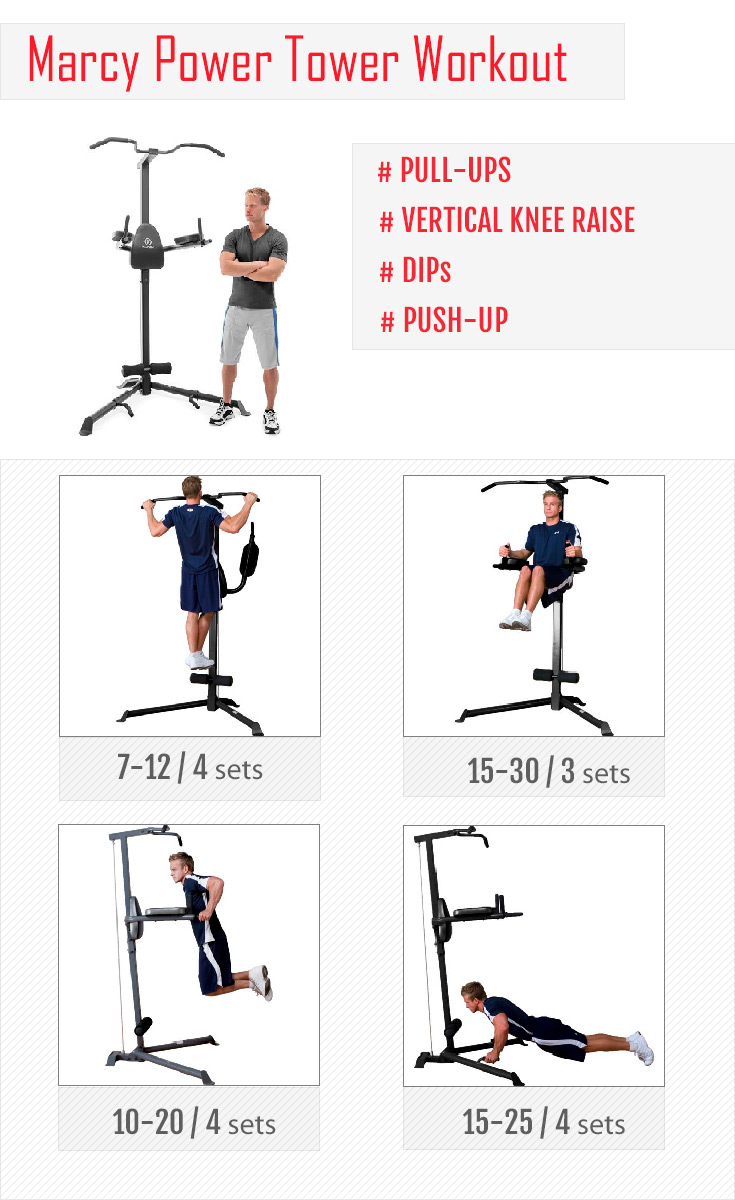 1. PULL-UPS. Chin-up bar designed with multiple hand positions for varying grip placement.
2. VERTICAL KNEE RAISE – Ergonomically angled VKR pads lower stress to the shoulder's rotator cuffs while better securing the forearms against the pads
3. DIP STATION – Dip handles flip up for unobstructed chin-up exercises
4. PUSHUP STATION – Ankle pads secure body for sit up and abdominal crunch exercises
Video Review:
Comfortably-placed dip handles allow you to bulk up your triceps and pectoral muscles in your own home. Fold up handles make for easy storage between
workouts
and provide for optimal space. Sit up foam pads allow you to carve out an impressive set of abs while remaining in place on the floor.
does not occupy much space
many functions
durable and sustainable
handles for push-UPS is not sustainable
Power towers attract the attention of the customers due to non-standard form. It occupies less space and at the same time with a large limit possible weight. You will be able to train even in a small apartment. Also important to the quality of every detail. Comfortable handles, soft cushions, retractable handle for push-UPS. This attention to detail makes the device very convenient to use.
This model has all the basic and additional features. You will be able to swing the arms, back, abdominal muscles. It has everything you need. Train hard and regularly. The good physical form is guaranteed. If You are interested in this brand, you can pay attention to the Marcy TC-3515 and read the latest review on our website