The Power Tower is a good fitness equipment for home workouts with body weight. It allows you to train the muscles of the upper body. Helps to increase endurance, strength and muscle mass. Becoming more popular due to its advantages. We have prepared a large number of reviews on the Best Power Tower models and new products a long time popular with buyers.
We would like to help You choose the  excellent option among all models power rack. Almost everyone has their own important advantages, but the most popular models in terms of performance, price and reliability.
Read our blog, subscribe to social networks, ask questions, and suggest topics for discussion. All for models of the power tower and workout with them we are ready to discuss on this website.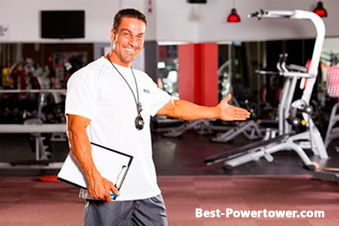 The power tower is an equipment which simultaneously contains a horizontal bar, parallel bars and allows you to perform basic bodyweight exercises. Thanks to its compact size it can easily be used at home or in the apartment. But also this equipment is used in gyms. Answers to basic simple questions, we gathered in a separate article. You can read more here. 
Since each can determine the best model to suit your own preferences is difficult to determine a clear leader. We present good choice in different categories. This will allow each reader to choose the TOP power towers on basis of their main selection factors.
Rating is prepared on the basis of user feedback, main shops that sell these goods, number of responses, discussions in forums and social networks. We studied opinions and recommendations of influential athletes, coaches, owners, fitness halls and sellers of fitness equipment. It was a lot of work. Let's get started
We have compiled a large table in parameters and each of them compared models taking into account strengths and weaknesses. Therefore, result implies estimate based on a number of parameters. Here are results of the rating and basic parameters leaders. We will show the power tower reviews for the TOP models in 2017. Also below we show types of exercises with this equipment for upper body.
TOP 8 Power Tower 2017 (Updated 14/09/2017)
| MODEL | PHOTO | DIMENSIONS LWH, in | WEIGHT LIMIT, lbs | ESTIMATED PRICE* , $ | ADVANTAGES |
| --- | --- | --- | --- | --- | --- |
| XMark XM-4434 | | 52.8х24,8х82,8 | 350 | $ 154,95 (Inbox Fitness) | The Best estimate |
| Weider 200 | | 49х35х70 | 300 | $ 115.82 (Amazon) | The most popular |
| Stamina 1690 | | 42,5х49х81 | 250 | $ 89.45 (Amazon) | Cheap but good quality |
| Bowflex BodyTower | | 53х50х77 | 300 | $ 299.99 (Amazon) | Multifunction |
| Body Vision PT600 | | 57,5х42,5х84,6 | 250 | $ 119.89 (Amazon) | For beginners |
| IRONMAN Triathlon X Class | | 63,4х49х83 | 400 | $ 699.99 (Amazon) | Power and functionality |
| Gold's Gym XR 10.9 | | 57,5х41х84 | 350 | $ 101,76 (Home Depot) | High quality |
| Xmark Deluxe XM-2842 | | 62х54,5х94 | - | $ 330.00 (Home Depot) | Heavy bag stand |
* - we have indicated price that could find through Google at the moment. When upgrading this page we will specify prices.
Leaders among budget models (this is a model with price about a hundred dollars) for a long time are models of proven brands, which for a long time remain market leaders in fitness equipment. The trust of customers won long stay in the market, a large volume of high-quality products, which are not inferior to more expensive models.
These models do not contain special features. A standard set of features, average weight limit, high quality, durable equipment. But these options and settings will suffice for most users, who do not need a special opportunity, large weight limit.
So leader of the budget models are:
Stamina 1690 Power Tower one of the most popular home gym equipment. It is cheap, easy, practical and functional that makes it very popular. You can do pull-ups, vertical knee raise, triceps dips, push-ups, many other exercises. This model is easy to assemble.
Main advantages:  brand, quality, price
Brand: STAMINA
Length: 42,5 in., Width: 49 in., Height: 81 in.
Exercises: dips, pull ups, chin ups and many more to strengthen arms, chest, back, abs
Weight: 61 lbs
Weight Limit: 250 lbs
A good well-known brand, quality is in details and simplicity, everything is simplified, You get necessary minimum capacity and pay cheap. Despite cheap price, excellent quality, good durability. A good model from a good brand - we recommend.
XMark XM-4434 Power Tower you will want to commit to as each passing workout brings you closer to your ideal body. All necessary features, good durability, quality materials, great price with beautiful appearance.
Main advantages:  brand, quality, price, functionality
Brand: XMark

Dimensions: length: 52.8 in., width: 24.8 in., height: 82.8 in.
Exercises: chin-ups, wide and close grip pull-ups, knee raises and dips
Weight: 85 lbs
Weight Limit: 350 lbs
A great combination of characteristics, strength, weight limits, prices. Comfortable padded hand grips and high-quality frame - all this makes this model popular and purchased. Xmark Power Tower with Dip station and Pull Up bar XM-4434 - one of the best power tower in 2016 will be popular in the current 2017. This is option to choose if you have seriously decided to train with weight of their own body. Even if you use extra weights shouldn't be a problem - equipment will be quite stable. A great combination of price, durability, compactness.
Weider 200 combine four universal muscle workout stations into one unit. This is an perfect equipment for complex upper body training with your body's own weight only. Weider 200 supports up to 300 lbs (136 kg) and it excellent for busy home fitness.
Main advantages: brand, quality workmanship, high weight limit
Brand: WEIDER
Dimensions: length: 4ft. 9 in. (145 cm), width: 3ft. 5in. (104 cm), height: 7ft. (213 cm)
Exercises: push-ups, leg raises, dips, pull-ups
Weight: 90 lbs
Weight Limit: 300 lbs
This model can be considered a combination of excellent quality, good features, price, brand. It is reliable, durable and strong. Number of sales and positive reviews - this is one of the most popular power racks. In the section of related equipment You will find complete information: weider power tower workouts, manual, video review.
It is a good choice for beginners - such equipment is of interest not only boys, but girls. Fitness is becoming more popular and girls don't want to keep up with guys in anything. A good choice for basic needs. Power rack needs to be comfortable enough for exercise, comfortable non-slip handle, padded back and armrests would be very useful.
If a girl will use it yourself, it would be nice if the equipment was not heavy and could easily move on their own. And of course appearance of the proposed model of white color. It looks great and goes well with any interior. This does not mean that girls can't use other models power tower, or guys can't use the proposed model. We just want to say that for girls, this option would be good.
Body Vision PT600 Power Tower allows you to get everything you need for easy home exercise weight for upper body. Time-tested brand guarantees a high quality product. Now You will be available best exercises for home gym.
Main advantages: quality, cost, reliability
Brand: BODY VISION
Dimensions: length: 57.5 in., width: 42.5 in., height: 84.63 in.
Exercises: chin-ups, wide and close grip pull-ups, knee raises, dips
Weight: 66 lbs
Weight Limit: 250 lbs
In a review on our website can be found: Body Vision PT600 Power Tower manual, assembly instructions. Excellent manufacturer and the quality in every detail. A special coating on the stands protect floor from damage and unnecessary noise (but it is better to use mats). Small weight limit and light weight equipment ideal for girls. The equipment looks great and will allow you to perform a complete workout.
Any girl will be able to get in good shape using this trainer, but it is necessary to respect the harmony and elegance. Choosing PT600 you get all of this in one purchase.
If You need more professional equipment or Your weight requires more powerful hardware - this unit is for You. Here we look at the best models from the high limit of weight that can be used in gyms or heavier athletes. Also these models can be interesting for those who want to use additional weights.
It is more expensive equipment, but it is more durable, durable, You need to define Your goals and opportunities. In this case, weight limits will be given with some reserve, but other factors also will be high. Also take into account feedback, data from Internet and opinions from fitness trainers. If funds allow, you can purchase one of these power tower.
Ironman Triathlon X Class Multi-Function Power Tower this is one of the most functional models with a very good performance. All basic features is complemented by various possible variations of the exercise.
Main advantages: brand, maximum user weight, a variety of functions
Brand: IRONMAN
Dimensions: length: 63.4 in., width: 49.0 in., height: 83.0 in.
Exercises: push-ups, leg raises, dips, pull-ups, Sit Ups, assisted dips, progressive pull ups
Weight: 150 lbs
Weight Limit: 400 lbs
Durable and reliable model, quality soft handle and a number of additional functions and ability to adjust the individual parameters of the athlete. Professional heavy duty power tower workout station for home gym.
It's really multifunctional equipment on which to perform the full workout. Handles can be moved between increasing the number of possible exercises - what is comfortable and useful. You can train your arms, back, chest, shoulders, abs, and legs. Width between handles are optimal for running exercises (can be adjusted). Different angles and grips to allow you to do more diverse standard exercises.
This is the best pull up tower for big guys whose weight is more than usual (also this is a good option for training with extra weight). Hang yourself with a free weight without doubts, when you exercise equipment will not be shaken.
A popular brand of fitness equipment - everyone knows Gold's Gym. It is a well-known name and trusted brand. Quality of the equipment confirms status of industry leader (which for a long time confirms recognition of the quality of each product). Each item is made to train with pleasure.
Main advantages:  brand, quality, price
Brand: Gold's Gym
Length: 57.5 in., Width: 41.0 in., Height: 84.0 in.
Exercises: push-ups, leg raises, dips, pull-ups, assisted dips, progressive pull ups
Weight: 99 lbs
Weight Limit: 350 lbs
The first thing to note - this is a high quality. Non-slip handles are comfortable and allow you to perform the exercises confidently holding on to them. Sturdy frame is stable under heavy loads.
Weight limit is one of the most large and it is set with a margin - if all tests did not have any problems with swaying or wavering of the equipment. Good functionality will suit the majority of athletes and will allow you to get a full home workout.
The price was good accessibility. This combination of quality, functionality, visual appeal, the model should be more expensive. The site presents a detailed review and the opinions of experts and feedback from owners. I can confidently recommend Gold's Gym XR 10.9.
This section contains models with extra features. It will be useful for those who need not only basic features, but some specific exercises. For example this can be useful for training grip the arm wrestlers. Specific training for fighters.
Models were selected according to the user feedback, additional features and capabilities. Here are how the model that are sold in online stores.
Bowflex Body Tower has a unique and easy-to-use feature EZ-Adjust horizontal bars that lets you increase the variety of your exercises, raise intensity of your workouts, improve results of your fitness program. Each piece of equipment is quality and reliable.
Main advantages: high weight limit, variety of exercises, sling straps
Brand: Bowflex
Length: 53.0 in., Width: 50.0 in., Height: 77.0 in.
Exercises: push-ups, sit-ups, squats, planks, pull-ups, abdominal exercises, dips
Weight: 114 lbs
Weight Limit: 300 lbs
This power tower is equipped with additional handles that allow you to perform exercises more varied. To train grip strength, developing muscles of the forearm. If these features are important to You - then this option is great - we recommend you to pay attention.
Xmark Deluxe XM-2842 Power Tower with heavy bag stand (Heavy Bag NOT Included). A good choice for those who want a home not only to perform the strength exercises with the weight of his own body, but also conduct a Boxing workout with a heavy bag. Choose a heavy bag can according to their needs separately.
Main advantages: heavy bag stand, good strength, stability, quality
Brand: XMark
Length: 62.0 in., Width: 54.5 in., Height: 94.0 in.
Exercises: push-ups, sit-ups, squats, planks, pull-ups, abdominal exercises, dips
Weight: 126
Heavy Bag Weight (max): 100 lb (not Included)
In addition, this durable model with comfortable handles and high-strength frame. You will not have to worry about the stability of the power tower during training. One of the novelties that we decided to add to our rating.
In this rating were not considered, but deserve attention and more detailed information about these models can be found in reviews section:
Stamina | X Fortress Power Tower - will allow You to have a strong beautiful body, to exercise regularly at a time convenient for you. Good equipment that will benefit the athlete of any level and degree of preparation. Possible exercise almost the entire body.
ProGear 275 - this model has a specific form, it can be useful if there is a large amount of space. There is no bar, there are special handles for pull-UPS different grips. It does not prevent to perform dips. The cost model is quite affordable with high quality you could only expect from more expensive counterparts.
Soozier Fitness Power TOWER  - interesting novelty, we have not had time to do a review. The specific form and additional options will allow you to perform more exercises for the abs.
STAMINA OUTDOOR FITNESS - for those who are planning to place the equipment outside. Quality frame not afraid of the impact of external environment and can be placed in the yard or garage.
Body Champ Power Tower (5-Station VKR 1010/1700) - a simple but reliable model of fitness equipment is from high-quality steel frame
Xmark Deluxe XM-2842 - new model with heavy bag stand which allows you to perform the exercise with a Boxing bag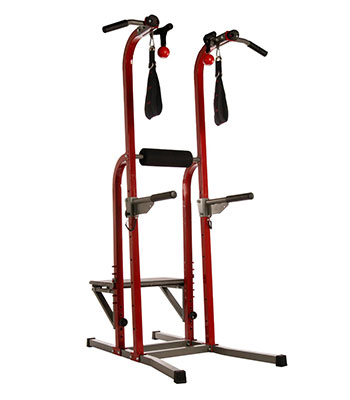 A large number of stores offering such a similar products. The most favorable terms of purchase offered two giants Amazon or Walmart - here offer the great prices, favorable terms of delivery. In the presence of all necessary additional items such as a rubber Mat for stability and protection of floor coverings.
But there is always the difficulty of choosing. If you are a beginner and don't know how to choose the great for you, not to pay extra money and get good equipment - how to make a choice. We recommend you to pay attention to the following parameters:
The size&design You need to have enough free space to make it easier to approach the equipment and perform exercises comfortably. In some cases the horizontal bar, parallel bars are from different sides: height of equipment can also be a limitation. Contemplate this.
Better to test the distance between the handles to be sure that you will be comfortable to do exercises. High guys will be uncomfortable if the horizontal bar and parallel bars will be on one side (can head). It is more convenient to perform exercises. If power tower is equipped with padded armrests, non-slip handles (this allows you to concentrate on the exercises). So your training will be most effective You will be comfortable to do the exercises and you'll not adapt to available opportunities.
Weight limit Note the weight limit. If Your weight is large, it is best to provide stock options. Otherwise, when you exercise the possible jiggle or squabbles (this will hamper training). Part of the power tower have opportunity of fastening to the floor. This is a great option if You are not going to move the equipment.
Functionality Choosing the model of equipment note the possibility of performing the desired exercises. For a more comprehensive training should probably pay attention to more expensive models, where it is also convenient to train legs, more variations for exercise. Some models allow you to train grip is important for members of arm-wrestling. You can hang a punching bag and workout will combine strength exercises and strikes.
The brand should give preference to well-known producers for a long time producing the equipment for a long time. The  reasonable price check on amazon and read customer reviews.
You bought a fitness power tower - what next? A little effort and you have collected this equipment independently or ordered at the supplier. Set it in a convenient location and would like to start training. To start with the most simple basic exercises. If You are a beginner, it will give you the best result. Maybe you already engaged and now has updated equipment to take the next step in their development and level of training. Then this article may be boring for you. This guide is more focused on beginners who are just starting to exercise.
One of the basic exercises for back muscles are pull-UPS. It is a comprehensive exercise which also trains the muscles of arms, shoulders. It can be used to develop grip strength. It is performed with the purpose of developing endurance, strength, under certain conditions - bodybuilding. Many are unable to catch up enough times and don't know how to achieve this. In the presence of horizontal bar of house to do is quite simple. Also this will help the power tower and will simplify your home workout.
The dip is a complex push exercise which works a large number of muscles in your upper body. This is one of the most popular exercises. As the main burden falls on the elbows and shoulders from this exercise, high risk of injury. It is therefore important to perform the exercise with correct technique and before exercise to warm up the muscles. A large part of the power tower allow you to perform this exercise when practicing at home. It is convenient and does not require much time. Most importantly safely install and, if necessary, to secure equipment.
To successfully choose the most suitable model of the power tower, stay tuned to our website, subscribe to social network. We seek to reflect the best innovations and related issues - training and nutrition.
Read our review and You will get result!