Ironman Power Tower Triathlon X Class Multi-Function this is one of the most functional models with a very good performance. All the basic features are complemented by various possible variations of the exercise.
This power tower allows you to perform exercises that are great athletes weighing up to 400 lbs. Even if Your weight is close to this limit – you will be able to confidently use this equipment. For maximum stability the legs can be bolted to the floor with bolts or anchors. It is a special attachment with holes. This brand is a manufacturer of fitness equipment and its range includes a large selection. But this power tower deserves special attention. She really is a professional equipment for athletes of different levels.
Ironman Power Tower Dimensions:
| | |
| --- | --- |
| Brand | Ironman |
| Length/Width/Height | 63.4 in./49.0 in./83.0 in. |
| Weight Limit | 400 lbs |
| Product Color: | silver |
General Description
This power tower is suitable for home training of any athlete. It will be possible to train the arms, shoulders, back, abs and even legs. The ability to perform various exercise options will make the workout more intense. But also it is often used in gyms. This model can be seen anywhere. It is strong and durable, the quality is one of the main advantages of this equipment.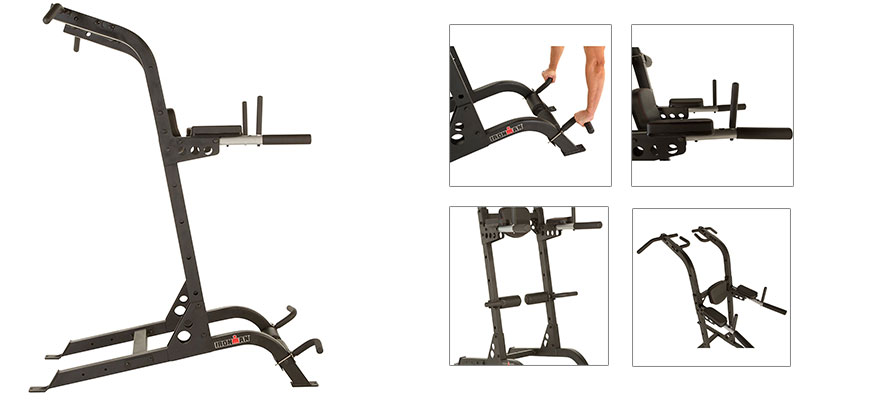 Main parts of Ironman Power Tower :
Quality workmanship and complete equipment will allow you to quickly and easily assemble this power tower. You will need a standard tool and half an hour of time. Prepare free space with a reserve and start the Assembly. Although the Assembly process is not complex it will be good if You can help the other. Once the build process, you can adjust the size of his height, that was easy to do exercises. It is possible to mount at different heights of the handles and backrest.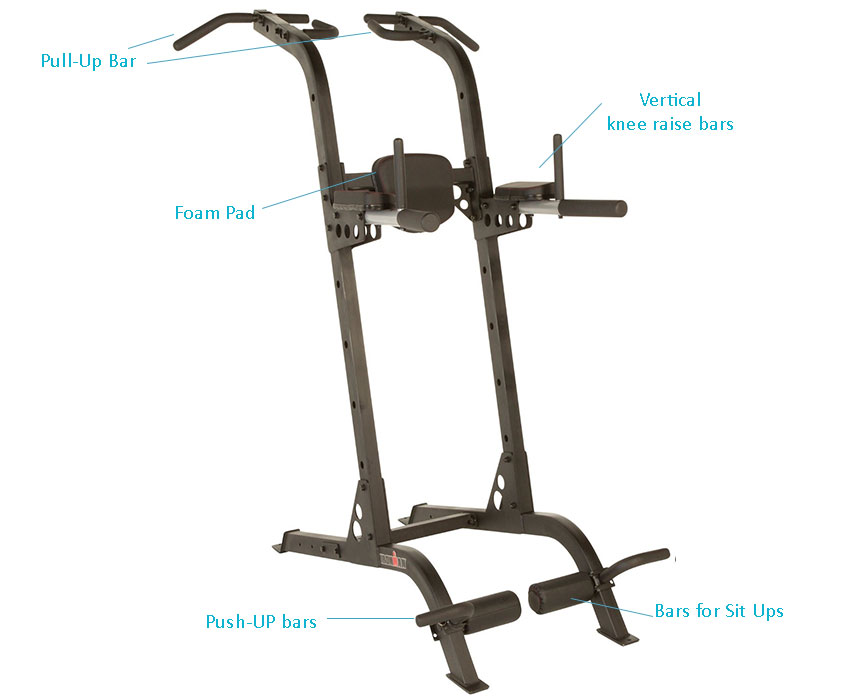 Ironman Triathlon X Power Tower Workout Function:
You can set them in seven different positions to perform different exercises. It gives a lot of opportunities to perform the exercise more comfortable, or at different angles. This study will involve more muscle groups for a more concentrated workout.
1. PULL-UPS different handles and grips will help you to train different muscle groups. Wide enough trains back. Reverse grip develops the biceps, narrow grip trains the hands.



2. AB Workout – a few different exercises for abdominal muscles: Vertical Knee Raises and Sit Ups. This will allow you to work all of your abdominal muscles. For more efficiency, combine the exercises into sets.



3. Triceps Workout – you can train different ways. Do the normal dips, assisted dips or progressive pull ups with different angles of inclination. A series of such exercises will allow to work out the triceps and deltoid muscles.



4. PUSHUP STATION – comfortable thanks to the special handles. Pushups with different position of the body at different angles. This will give the possibility to work the upper chest muscles. Also will simplify the task for beginners.


[/blocknumber] Exercise available different variations, different grips, and additional features. This will allow you to train more diverse. The size and location of the handles allow you to comfortably hold and diversify the workout with some additional exercises.
Features of the Power Tower
One of the advantages of this model is the quality of all items. Comfortable handle, durable stitching, upholstered back, a sturdy mount. If you want a durable product, then this model will suit You. If the quality builds, the power tower is installed on a flat surface, it will last You a long time.

Large weight limit and High quality
Сomfortable handles, backrest, armrests
2 adjustable handlebars with foam rollers for multiple exercises with 7 mounting positions
multifunctionality and ergonomics
Tom Larson – fitness trainer: "This equipment is expensive, not necessarily to buy it if you don't have enough money. But if you have seriously decided to deal with them, this model will be indispensable.
Ironman Triathlon X Class overview:
Ironman Triathlon X Class Multi-Function Power Tower is very popular among experienced athletes. Although it is more expensive, many prefer it to the cheaper models. Once you go to do it, more you do not want something else.

Mad Pit: I have quite a lot of weight, but I can even use weights when pull-UPS. Very comfortable and durable station. I combine different types of pull-ups work for different muscle groups.
Robert K.: It took a little more space than planned. But I have to train really convenient. Very good quality and easy to assemble. I have a lot of weight, but no problems with balance.
Hubert: Just happy the purchase! I do not regret a single penny, it's worth it. All I can recommend. You can do a lot of exercises. Very well-suited for size, exercises to perform conveniently.
We can confidently recommend this model power tower for use. It fits all the characteristics, except perhaps the price. It is not cheap, but quite worth the money. Weight limit, quality in every detail, the functionality (presents additional opportunities for exercise – where else can you carry so many types of push-UPS or triceps to swing?) – you don't want anything else if you try to use this model of equipment. Conclusion – if you have the money, pay attention to this model and you will not regret it.