Strong grip is important not only for athletes of power sports. In most sports, this is important. Muscles of the forearm and hand train climbers, rukobortsy, fighters, gymnasts. In this review we decided to select the best hand grip. Consider the advantages of using this equipment, its types, the most popular models. Give advice on what to look for when buying. We will consider options with different designs but approximately equal in price.
So let's begin.
You will find this review useful in the following cases:
you are engaged in one of sports where force of a grip is important
you like active rest, climb mountains, trees
this group of muscles is lagging behind and performing exercises you have to use straps
you've had an injury and you need to develop muscles and tendons
you would like to have strong hands and a strong grip
you play a musical instrument and need strong fingers
TOP 5 Hand Grips 2018
| | | | | |
| --- | --- | --- | --- | --- |
| Kootek | The Grip Master | Yifi-Tek | The Friendly Swede | HomeGym 4U |
| | | | | |
| 50-75-100-125-150 lb | 1.5-3-5-7-9 9 pounds per finger | 30-145 lb | 20 lb – 30 lb – 40 lb | 10-+10… 100 lb |
| Reliable and powerful | Training each finger separatelym | Comfortable handle and easy adjustment | Trains and relieves stress | Wide range of weight and practicality |
| Check Price | Check Price | Check Price | Check Price | Check Price |
Just want to note when training with any of the options you will achieve the result. It is important that you fit the level of load and it was convenient to train. At equal cost, we paid attention to the practicality of use, durability, convenience. We compared these characteristics and studied user feedback from several sources. Let us consider each option in more detail.
Kootek Hand Grip Strenghthener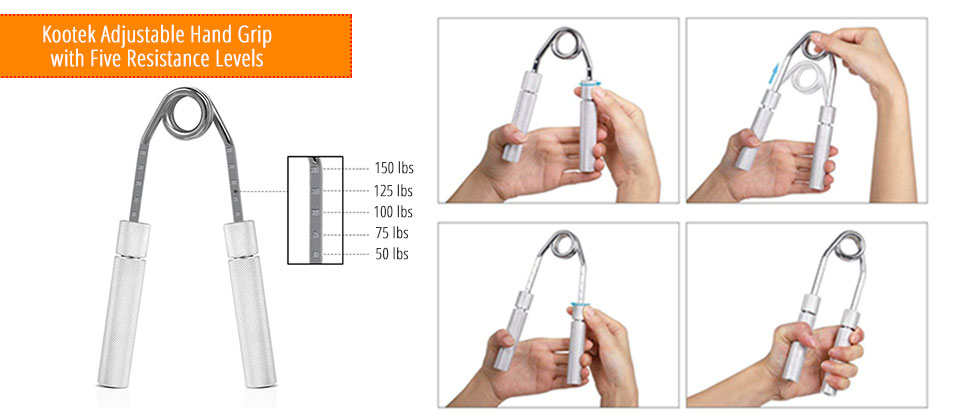 The Kootek handle consists of a steel spring and two handles with anti-slip grip. There are five levels of resistance. Adjustment is done in three simple steps.
1. Rotate the adjustable rings
2. Slide the handle along the adjuster bar and choise resistance level
3. Turn the adjustable rings
The first thing we would like to pay attention to is the material. The alloy is not as heavy as it seems at first glance (item weight: 2.4 ounces). But the strength is beyond doubt. The handles do not slip in the hand due to the special coating even if the hand is sweating.
Kootek Hand Grip does not take up much space, it is practical and easy to use. The initial distance between the handles will suit most users.

5 adjustable levels of resistance
durable long-lasting material
non-slip handles
the distance between the handles may not be suitable for everyone
changing the load did not seem convenient to everyone
Gripmaster Hand Exerciser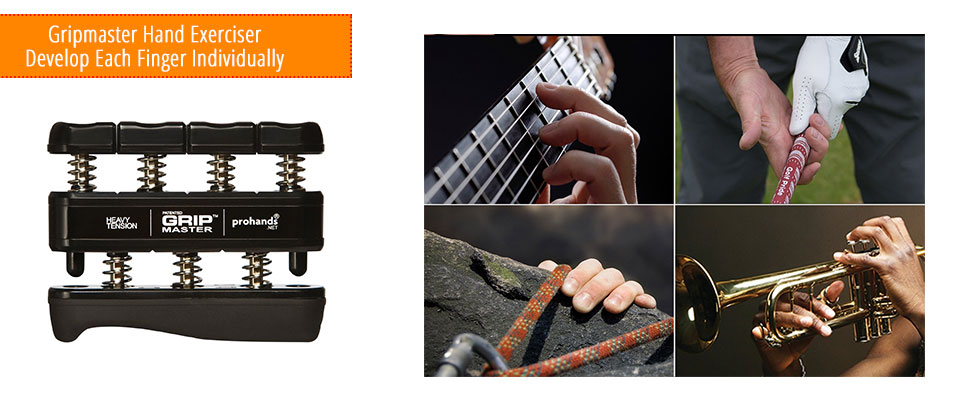 This Hand Strengthener allows you to train the brush and separately each finger. The outer plank is divided into four equal parts. To perform compression, it is necessary to overcome the force of counteracting the springs. It is quite compact. Its dimensions are 3.6 x 0.9 x 2.9 inches. The shape is ergonomic, the surface does not slip and the exercise is comfortable.
Ideal for climbers. Isolated training of each individual finger. It is also suitable for athletes and musicians. In addition, with injuries to the hand and forearm, this Hand Grip will allow you to restore functionality.
isolated finger training separately
1,5 – 9 pounds per finger
good quality and ergonomics
no load regulation
not everyone fits this size (some of it was small)
Yifi-Tek Hand Grip Strengthener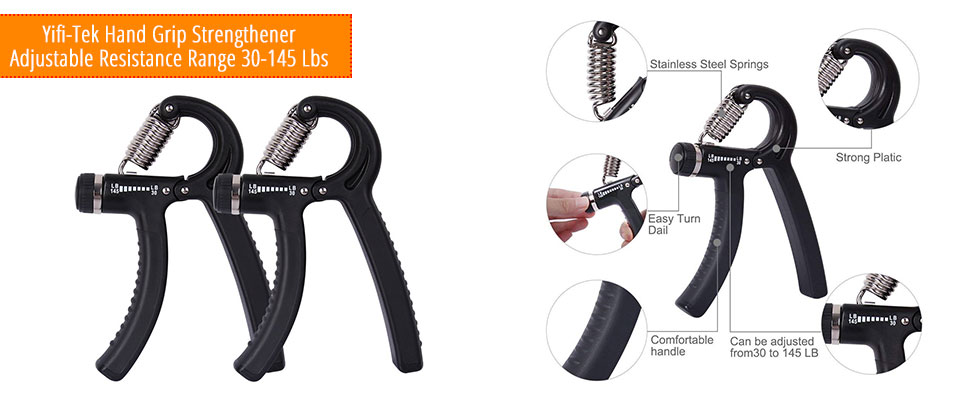 Data Hand Exerciser is sold in pairs. This allows you to train both hands at the same time. Load regulation is simplified as much as possible. You scroll the regulator and then you can continue training. The handle is covered with non-slip material. At the same time, the exercise is convenient and comfortable. The handles have a relief and this creates an additional fixation in the hand.
We like many people had a question about strength. But we tried to make sure that the Wifi-Tek is reliable. In addition, the manufacturer gives 100% Lifetime Guarantee.
100% Lifetime Guaranteed
easy and convenient to use
Package Included – 2 x Yifi-Tek Hand Grip
large enough size
users claimed that the load is less than specified
The Friendly Swede Hand Grip Strengthening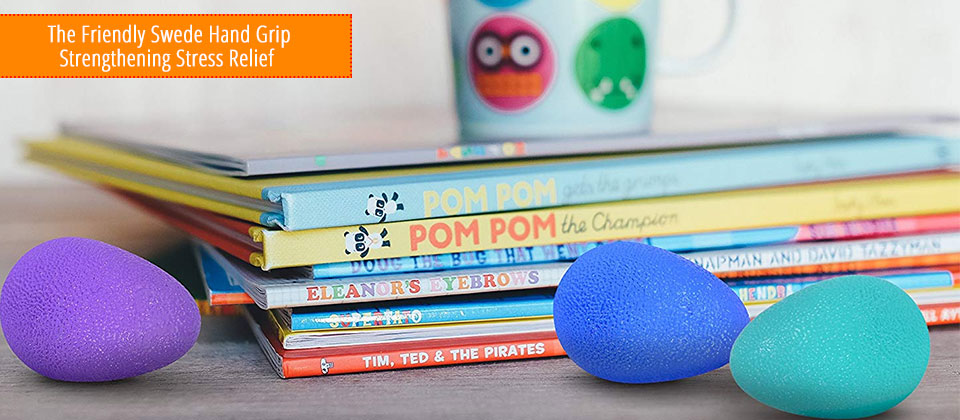 The Friendly Swede Hand Grip can simultaneously exercise power hand – simple exercises and maintenance of arthritis. You train your fingers, muscles, and forearm tendons at the same time. This will be useful if you work a lot on your computer. Simple and pleasant to the touch, these Hand Grip perfectly relieve stress.
They are easy to use – they can be placed on the desktop and used in short intervals when working. There are three variants of the resistance level – 20/30/40. You will not confuse these options as they differ in color and size. You will be able to use these eggs for a long time – they are made of thermoplastic rubber. Even after prolonged use, they do not lose their initial form.
strengthen wrists, relieve stress
prevent arthritis
ergonomic and compact
a small load, not all fit
HomeGym 4U Hand Strengthener Grip Rings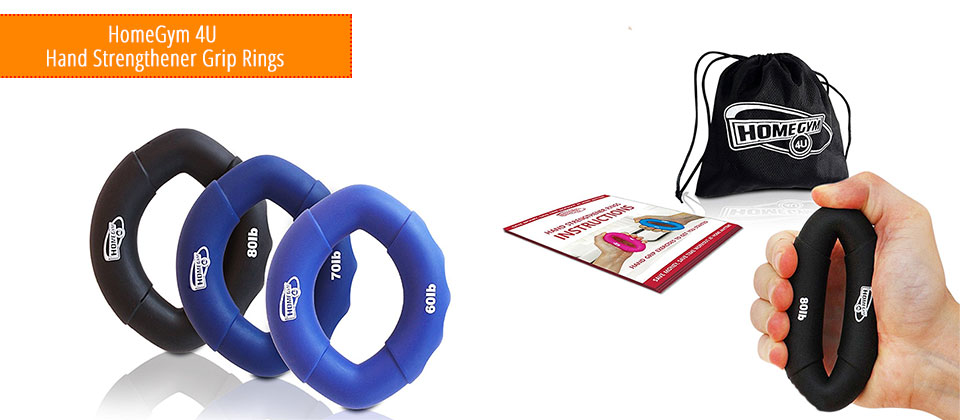 HomeGym 4U Hand Grip is a quality product at an affordable price. It is made of eco-friendly rubber. No bad smell. You can use it anywhere and anytime. It is compact and practical – fit in any jacket or bag pocket. A good range of loads allows you to choose the level of effort you need for training.
He won't make a noise in his hand. Its shape is convenient. You don't have to worry about reliability. They are very wear-resistant. In addition, the manufacturer gives a 100% lifetime warranty.
environmentally friendly material
compact, convenient, silent
simple, functional and durable
100% lifetime guarantee
to change the load, you must use the following set of Grips
How to Use Grippers
In this video, Dr. Robert Fennel talks about the benefits of training grip. Describes the correct technique for performing exercises with one of the hand grip.