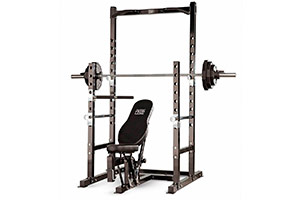 Marcy Power Rack and Bench, PM-3800 – great equipment for your home gym. The full set of capabilities for training with own body weight, free weights. You can perform a complete workout of the whole body conveniently, safely, comfortably and efficiently.
The quality sturdy frame provides stability equipment and can withstand high load. A convenient bench with adjustable backrest. It's allows you to maximize the number of running exercises. So, consider the features and capabilities of this equipment. His strengths and weaknesses, characteristics. The principal exercises and video review. For comparison, imagine similar models from this manufacturer.
General Description
First of all, a front-tube swivel catch offers leg-lock access for sit-up positions which is great for lower-body exercises. A gravity lock can be purchased too, along with a quick-adjust bar and safety catches for user-friendly and other defense against accidents. A numbered adjustment system and open front-tube/spring-lock access provide more ergonomic functions to the workouts.

| | |
| --- | --- |
| Model | MARCY PM-3800 POWER RACK |
| Assembled Dimension | 78" x 51.5" x 85" |
| Maximum weight on Bar Catch | 300 lbs |
| Maximum user's weight on Bench | 300 lbs |
| Maximum weight capacity on Bench | 600 lbs |
| Price | Check on Amazon |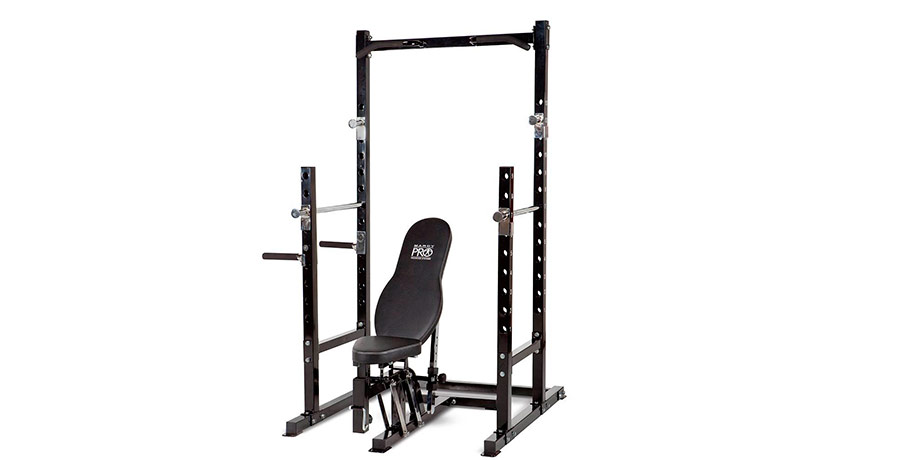 About the Manufacturer
The IMPEX company has long been engaged in the fitness industry. It is a manufacturer of a wide range of equipment for training. It is the power tower, dumbbells, exercise equipment. Its brands are MARCY, APEX, STEELBODY, HERS, BIONIC BODY and COMPETITOR. More information about the brand can be found on their official website.
MARCY® PM-3800 Assembly Instruction
Users often have difficulty with the Assembly of similar equipment. A lot of details, not everyone understands what bolts to use where. So you won't have any difficulties, we offer You to download and read the detailed user manual. To simplify and speed up the process. It is also important to correctly assemble the frame for security training.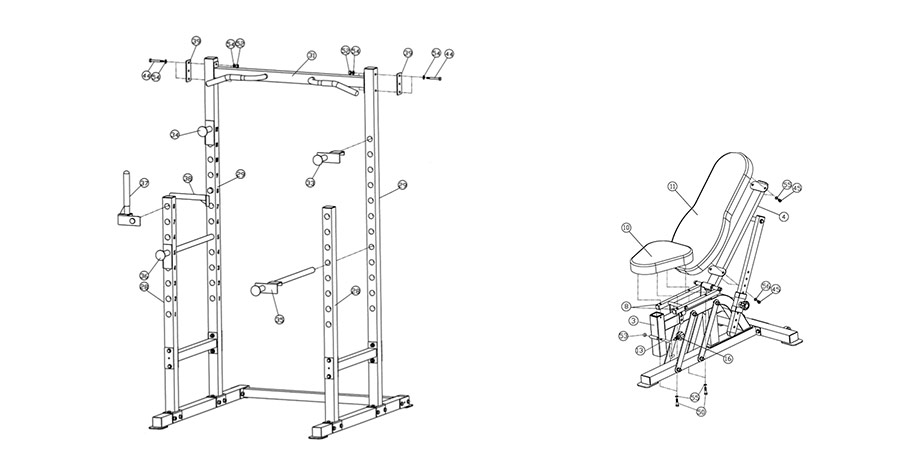 Key Benefits
The Bench, PM-3800 adjustable back angle. You can do exercises from different angles shifting the focus burden on different groups or areas of muscles. You can do the exercises sitting or lying down. It could be training upper body or individual exercises for the abdominal muscles. The quality of plating the seat and backrest is not in doubt. It provides for intensive use and a long time will be well maintained.
The adjustable-height bar and safety catches can be adjusted to suit the height of the user or perform the exercise. In the upper part, there is a horizontal bar to perform pull-ups or leg lifts. Convenient handles allow you to exercise different grip. Side handles are designed to perform dips. They are comfortable and non-slip. All items are securely fixed and when you exercise as stable as possible.



If You need to move the design – you can use the transport wheels, which are provided on the frame. This is useful as sometimes the need arises.
Marcy Power Rack Workout & Video Review


This video shows basic exercises that you can perform when training with the Marcy Power Rack. In addition, there is the opportunity to visually see the equipment in action. Recommended for viewing.

In our opinion, this is one of the best options among power racks in this price range. Combination of quality, reliability, value, and functionality. We found a lot of positive reviews on this equipment, both among ordinary consumers and gym owners. Therefore, we recommend you to pay attention to this model.
| | | |
| --- | --- | --- |
| Marcy Cage Home Gym | MWM-7041 | Full Rack, Utility Trainer | SteelBody STB-98010 | Marcy Half Cage Rack | SM-8117 |
| | | |
Any of these models will be a perfect addition for home gym. They are compact, reliable and high quality. In comparison with other similar stands, their cost is average. The Marcy company is committed to a high level of consumer confidence. So you will always be able to easily solve any issue or questions they may have. We recommend you to use.