When there is a desire to buy equipment for your home gym one of the first among the universal fitness equipment is lat pulldown machines. The main advantage of this is a good opportunity for training with sufficient compactness. At a modest cost, you get the opportunity to perform a number of basic exercises for different muscle groups.
So, let's consider the best lat pulldown machine – the basic advantages, compare the capabilities and characteristics. Consider the necessary accessories that will allow you to perform the exercise as efficiently as possible.
Most of the models are quite compact. They will easily fit in your home gym or even in your apartment. You will be able to use standard plate weights in your workouts. Exercises with this simulator will allow you to perform a large number of different exercises, which we will also talk about.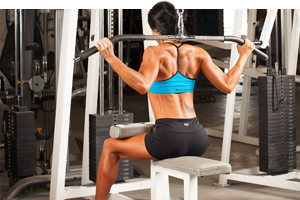 TOP Lat Pulldown Machines
XMARK MACHINE XM-7618

High and low pulley stations
load capacity up to 400 lb.
you can use the standard plate weights
reliable mechanisms of the rollers

Read More

Check Price

POWERLINE PLM180X LAT MACHINE

simple and durable construction
two positions for exercise
the use of standard weights
good opportunities for training

Check Price

POWERTEC FITNESS LAT MACHINE

good ergonomics and design
easy load slide rods
ring stoppers prevents cables from falling out

Check Price

VALOR FITNESS CB-12

high functionality
convenient design with additional options
the use of standard plate weights
additional cables for alternative exercises

Check Price

BODY-SOLID PRO LAT MACHINE

heavy-duty equipment construction
two bars included for a full-featured workout
comfortable pad for sitting and adjustable roller
high quality of each item

Check Price
TAKE YOUR COPY OF THIS LAT PULLDOWN MACHINE RATING AS A PDF DOCUMENT (0.8 MB) – DOWNLOAD PDF OR SEE IN (JPG)
Detailed Review
The most popular models are presented in this rating. But so that you can better navigate, we suggest familiarizing with detailed descriptions of the features, features, advantages, and disadvantages of each model.
XMARK LAT PULLDOWN AND LOW ROW CABLE MACHINE XM-7618
Basic Exercises with this equipment: Lat Pulldown, Seated Rows, Straight Arm Lat Pulldown, Tricep Pushdown, Curls.
The manufacturer took care of the strength and ergonomics of lat pulldown machine. At a fairly modest size, it can withstand weight up to 400 lbs. Even at maximum loads, the structure is stable. The seat is easily removed if necessary and does not interfere with standing exercises. In our opinion, this is one of the best models with an optimal combination of characteristics, cost, and design.

Load Capacity: 400 lb
Dimensions: 56.7 x 48 x 84 inches ; 155 pounds
PROS&CONS
High weight capacity up to 400 lbs
possible to use with standard or Olympic weight plates.
heavy-duty frame
ergonomics: additional retainers, comfortable Seating
low and high pulley stations
We found the negative reviews were mainly related to issues of delivery.
The lack of seat height adjustment can be a disadvantage for high end users
Powerline PLM180X Lat Machine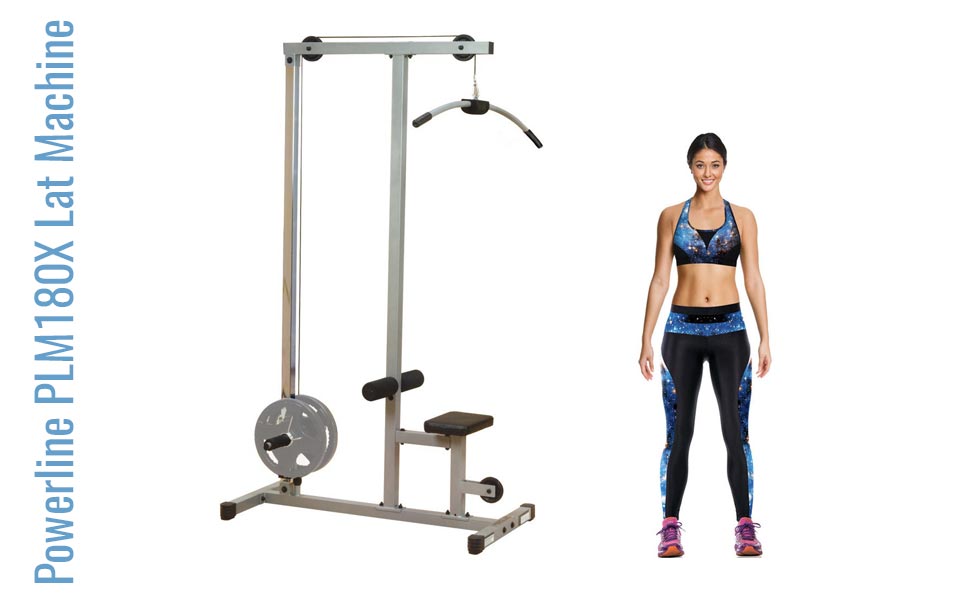 Simple and durable Powerline PLM180X allows for a small cost to be able to perfectly complement your home gym. You will be able to perform excellent exercises for different muscle groups conveniently and effectively. The design of the frame allows it to remain stable when performing training with the maximum permissible weight.
To perform exercises and use the lower roller cable is increased by an additional cable with a handle. There are no complex mechanisms that could be misleading. Established the necessary weight and began training) There is no seat adjustment and this can be a disadvantage. But in General, the model deserves attention.


Dimensions: 48 x 25 x 80 inches ; 88 pounds
PROS&CONS
Good quality for the money
Robust mechanisms and robust frame construction
easy to assemble
for legs provided pads protect the floor from damage
The absence of any adjustment of the seat
One of the buyers had difficulty with the missing components
Powertec Fitness Lat Machine
All elements used are adjustable. The set weight is securely fixed. On the cable, there is a special limiter that will prevent the rope from slipping off the rollers. Also provided hooks holders handles. The legs are arranged in such a way that the Lat Machine stays stationary with whatever weight you train with.

Dimensions: 56.3 x 82.1 x 39.3 inches ; 192 pounds
PROS&CONS
High quality of every detail
Excellent strength and durability
Ease of implementation of each exercise
Modern design
Valor Fitness CB-12 Plate Loading Lat Pull Down
The design is quite convenient. Storage hooks are provided for the upper handle. The seat is comfortable enough and its height can be adjusted, which is especially important for high or low users. It can be removed if it interferes with the exercise with the lower wire.
Good strength and stability of the structure allow you to safely perform exercises with weight up to the recommended. Weight plates are fixed with a special clip or a nozzle is used to increase the diameter and reduce sliding.
Max Weight: Load – 250 lbs / User – 325 lbs
Dimensions: 50 x 80 x 25 inches ; 84 pounds
PROS&CONS
High functionality at a relatively low cost
Additional options for training
Plate storage is provided
Good ergonomics, adjustable and removable seat
Users had difficulties assembling (didn't have actual instructions)
some users were dissatisfied with the strength of individual parts
Body-Solid Pro Lat Machine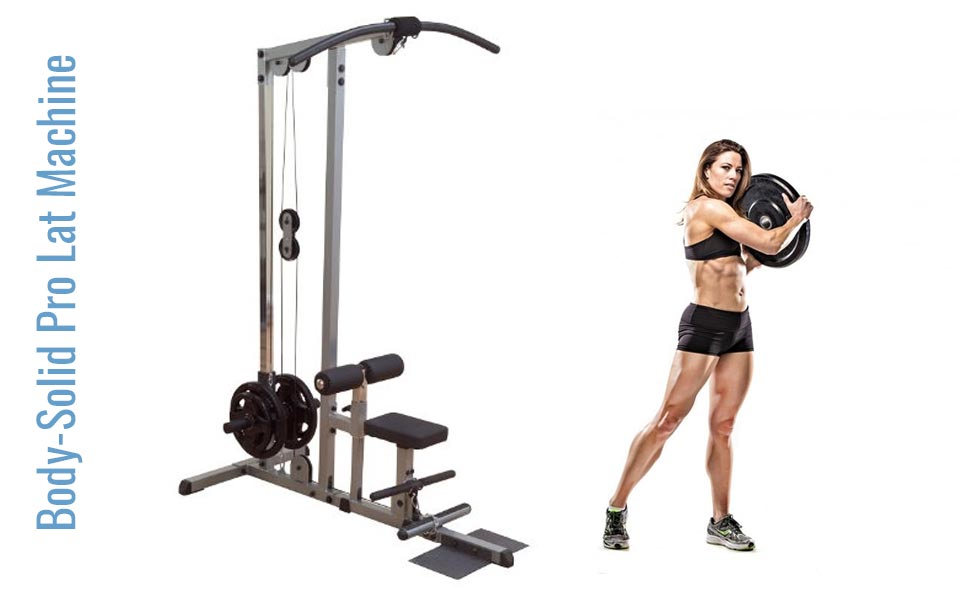 The Body-Solid company made the professional equipment with high quality at quite reasonable price. The quality was never in doubt, but we decided to check it out. We found this model in one of the gyms and asked about it. When using for about 2 years, it functioned perfectly. Movement of the carriage was as smooth and did not produce unnecessary noise.
The seat seemed comfortable to us, the adjustable cushion comfortably fixes the legs. Installing quite a lot of weight and performing exercises to avoid instability of the structure.
Studying reviews about Body-Solid Pro Lat machine we saw that not all easily dealt with the Assembly of equipment. This is strange, because on the website you can easily find a pdf manual. We recommend that you examine and use them for both build and use.

Body-Solid Lat Machine Exercises

Dimensions: 60 x 32 x 82 inches ;
PROS&CONS
Good quality and warranty terms
High strength and durability of the structure
Comfort and ergonomics
Most of the feedback about this equipment is positive. Was one of the users with big growth, he was unable to perform the exercises with full range of motion
Optional Accessory


Additional accessories can be used to make the exercise more comfortable.
Slave Adapter allows you to use plates of different diameters securely, in addition, it will extend from life and you won't hear the extra noise of their knocking.
Cable Attachment Package includes a set of additional handles for a more convenient performance of various exercises and an increase of functionality of the equipment.
V Shaped Press Down Bar will be a useful Supplement for exercises with the narrow grip.
Single Chrome Handle will be useful for one-handed exercises. All sorts of traction. It will allow you to focus on training as much as possible.