This review focuses on Best Roman Chair (Hyperextension Bench) – and how to use them for a strong and healthy lower back. But first, a little story…
When I first started doing sports I did it on my own without an instructor and made a lot of mistakes.
I wanted to quickly gain weight and become stronger. That is why I have started to do the basic exercises – squats with a barbell and deadlift. With my tall stature, it was devastating for my lower back. I injured my back. Thankfully it was only a sprain.
Now I pay considerable attention to warm-up and training of the lumbar muscles and the press. They form a protective corset for the whole body. A strong loin allows you to perform exercises with weights with the correct technique. And the right technique is the key to progress. In this review, I want to tell you about the equipment that I use in my training of the lower back. How to choose the best option for yourself.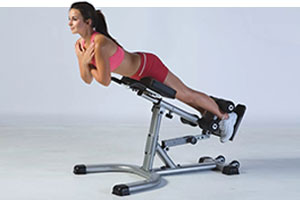 YOU MAY NEED THIS IF
want to eliminate the pain of the muscles in the lower back
work is connected with physical labor
you are active in sports and part use a lot of weight
do wrestling or Boxing and you need a strong lower back
sit a lot every day and lower back muscles are weak
COMPARISON TABLE
Below we present our ranking of the best Hyperextension Bench models from comparison & detailed reviews. After that, you will find a lot of detailed information, video reviews, advantages and disadvantages for each roman chair machine.

MODEL
FEATURES
REVIEWS
PRICE
Fitness Reality X-Class Multi-Workout Bench


ABS Multi-Workout Bench
650 lbs of weight capacity
High quality frame and bench cover
User height range of 5′ to 6'4 inch
The best ergonomics of the equipment

Check Price

Marcy Roman Chair


Premium Quality Constructions
Simple and durable frame
Great price
Ergonomic vinyl upholstery keeps body firm during training.

Check Price

Stamina Pro Ab/Hyper Bench


Possibility of convenient adjustment
Non-slip footrests and comfortable fixation of the ankles
The Multifunctionality and ergonomics
Compact when folded for storage

Check Price

Xmark Roman Chair XM-4429


Frame made of heavy-duty 3′ steel
Roller height adjustment in 10 positions
Average density of vinyl coating and water-repellent material
Has transport rollers and is recommended for home use

Check Price

Stamina Hyper Bench


Affordable price-below $ 100
Adjustable design that folds flat for storage
Non-slip Rubber Frame Caps

Check Price

BodyCraft F670


Lifetime warranty
Pad position adjustment
Durable stable frame, high-quality construction

Check Price

CAP Strength Roman Chair


High strength, Maximum capacity 300 lbs
Good opportunities to adjust to your height
Quite affordable the cost
Possibility of fixing the equipment to the floor

Check Price

Inspire Fitness Hyper Extension


5-position adjustment with a 45 to 90 degree tilt angle
excellent warranty conditions
ergonomic design, comfortable pad

Check Price

XMark XM-7631


Multifunctionality
High quality and adjustable
1500 lb. weight capacity
Convenience in carrying out any of the possible exercises

Check Price
# FITNESS REALITY X-CLASS MULTI-WORKOUT BENCH
Here are some of them:
Knee Raises
Back Extensions
Sit-ups/crunches
Push up with Resistant Handle Bars
Single Dumbbell Rows

This bench is very high quality. She has a solid frame of thick steel. Weight capacity is about 650 lbs. Moisture and sweat resistant coating with high-quality double seam. Good warranty from the manufacturer. All this speaks about the unconditional quality of the equipment.
You can adjust the bench to your height and use several adjustment options. This allows you to increase the load and conduct training more efficiently. Transport wheels and folding capability make it easy to move and store equipment after a workout.
Product Dimensions: 64 x 35 x 28.8 inches ; 55.6 pounds
Weight capacity: 650 lbs
PROS&CONS
High weight capacity – tested and confirmed
The average density of 2.5″ thick foam will suit most users
Adjustability 4 Level Bench Adjustments & 14 thigh support cushion height adjustments
Multifunctionality – it is possible to perform several exercises
Ergonomics and ease of storage
A large part of the negative feedback related to the picking and delivery
# MARCY ROMAN CHAIR
Comfortable Pad will suit most users. It is quite wide but not very soft. Handles are conveniently located and provided with a non-slip coating. Good stability will allow you to perform various exercises for the muscles of the press, bark, lower back, buttocks.
Product Dimensions: 43.5 x 27.5 x 37.5 inches ; 42 pounds
Weight capacity: 300 lbs
PROS&CONS
Durable and stable construction
Price below a hundred dollars
Comfortable Pad and Assist Handles
Reliable manufacturer
For some users, Pad coverage is not soft enough
Does not fold for storage
# STAMINA PRO AB
Ankle fixation is convenient and reliable. Soft videos are not pushing feet and non-slip stand eliminates slipping. For acceptance of the initial position, handles can be involved. The covering is covered with high – quality material, seams are reliable and hidden-will not press during exercise.
Nozzles on the legs protect the floor from scratches and damage. After training, you can fold the equipment and store it conveniently.
Product Dimensions: 43.5 x 27.5 x 37.5 inches ; 42 pounds
Weight capacity: 250 lbs
PROS&CONS
Comfortable and ergonomic design
Multifunctionality
The compact size and the ability to put the equipment for storage
Convenient and reliable mounting of steps
Not suitable for high users
Low weight limit
# XMARK ROMAN CHAIR XM-4429
Studying the opinions of users, we found some questions about the Assembly of roman chair XM-4429. To make it easier for you, we recommend that you check the instructions on the manufacturer's website –
www.xmarkfitness.com
.
To perform the exercises, you can adjust the height of the rollers to fix the legs. The model has a high stability.
Product Dimensions: 46 x 25 x 9 inches ; 66 pounds
PROS&CONS
Good durability and quality
10 positions adjust height of rollers for fixing the legs.
High ergonomics
Comfortable arm pads, and medium soft
No adjust the distance between the roller for the legs and pads
# STAMINA HYPER BENCH
Some of the users had left reviews about lack of durability of this model. We have had further advice from the instructor of the fitness center from California. He confirmed the use of such a model by the user weighing about 190 lbs. At the same time, there were no difficulties with stability.
Product Dimensions: 24.5 x 16 x 5.5 inches ; 27.8 pounds
Weight capacity: 250 lbs
PROS&CONS
Affordable price with good quality
Possibility of convenient adjustment under growth of the user
Easy storage when folded
Roaming soft rollers for fixing the legs
There were negative reviews on the strength of the equipment, although the overall rating is very positive
# BODYCRAFT F670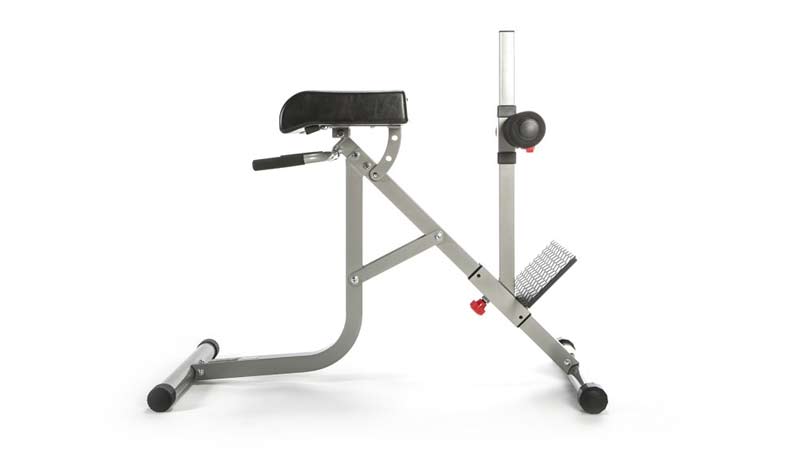 Durable and reliable model of equipment from the company Bodykraft. Durable powder coated pipe construction, which protects against scratches and damage. The chair adjusts from a flat position to a 45 degree position. It is possible to perform the following basic exercises: HYPEREXTENSION, BACK RAISE, SIDE BENDS.
Product Dimensions: 51 x 24 x 37 inches ; 64 pounds
PROS&CONS
High durability and quality of equipment
Ability to configure the equipment
Adjusts from a flat position to 45 degrees
# CAP STRENGTH ROMAN CHAIR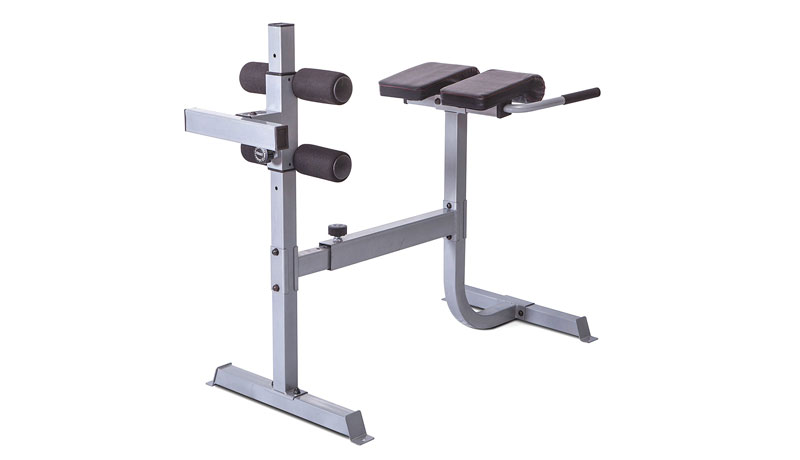 Excellent equipment from the brand CAP Barbell. The high strength of the frame provides the possibility of user training up to 300 lbs. For additional stability, you can fix the legs to the floor using the provided holes. With a sufficiently high quality, the cost of this model Roman Chair does not exceed one hundred dollars at the moment.
You get a good adjustment for your height. You will be comfortable to do the exercises for the core muscles and lower back. The legs are fixed with comfortable rollers located on both sides of the foot. Also, a special strap is provided for the footrest.
Product Dimensions: 56 x 29 x 43 inches ; 39 pounds
Weight capacity: 300 lbs
PROS&CONS
Durability and reliability
Possibility of fixing bolts to the floor
Ergonomics and ease of exercise
There are no protective pads on the metal legs and you can damage the floor
Without fastening to the floor low stability
# INSPIRE ROMAN CHAIR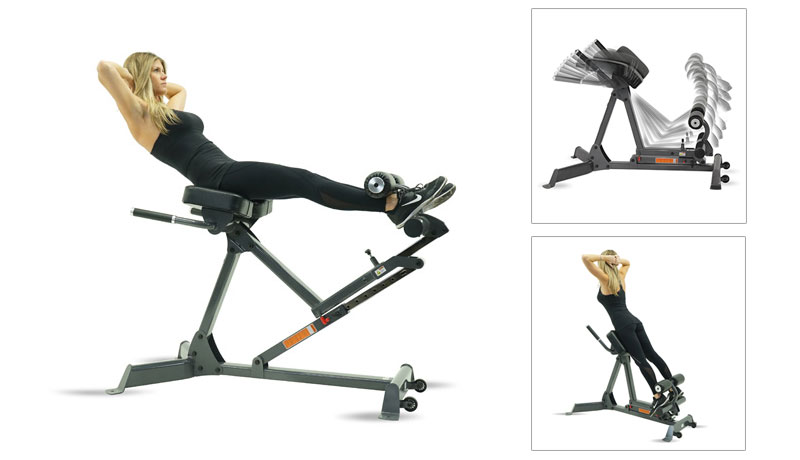 The main feature of this model is the ability to select one of the five positions with an angle of inclination from 45 to 90 degrees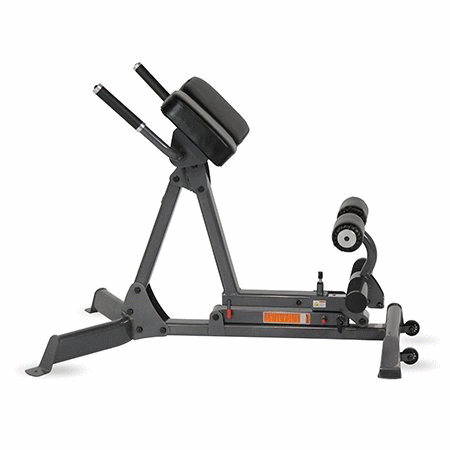 Changing the tilt angle is simple and fast. This will allow you to change the difficulty level of the exercise. Changing the settings also allows you to perform exercises for different muscle groups.
Chair legs can be fixed in the field. Special openings are provided for this purpose. This will allow you to achieve maximum stability and security.Each design element is made of durable and high-quality material. The manufacturer gives a long warranty. Handles are conveniently located. Soft rollers for fixing the body will not crush the feet during training.
If you plan to use this equipment at home, we recommend installing it on a Mat or mats, so as not to damage the floor covering. Special pads are not provided. To move a Roman Chair at one of the parties provided by the transport wheels.
To change the angle of inclination of the frame, it is necessary to use a special pin that fixes the position. Make sure you have a secure hold, and you can do the following exercise. You will be able to train the muscles of the bark, press, lower back. This model will suit both beginners and more trained athletes.

Dimensions: Length 53.74″ x Width 31.03″ x Min Height 38.73″ Max Height 39.86″
PROS&CONS
5 tilt angle adjustment positions are available
There is a setup of the equipment under height of the user
Convenient rollers for the foot and pad of medium hardness
Can be fixed to the floor
Good warranty conditions
High durability and quality
No protective coating on the legs
# XMARK XM-7631 MULTIFUNCTIONAL BENCH
1500 lb. weight capacity allows you to train heavy users with additional weights. While there are difficulties with the stability of the bench. She is relatively heavier than other models. This is due to the heavy-duty thick pipe, which was used in the manufacture of the frame.
To do exercises is really comfortable. Ultra thick 3″ Duracraft cushions offer firm support and double stitched, tear-resistant Duraguard vinyl.
Assembled dimensions:65.5" x 22.5" x 32.25"
Weight capacity: 1500 lbs
PROS&CONS
All-in-one ab, hyperextension and preacher adjustable bench
Professional quality level for every detail
Heavy duty strength and 1500 lb. weight capacity
Tear and sweat resistant Duraguard vinyl
Quite a lot of weight
One of the users of hyperextension pad seemed unstable, although we did not think so
Roman Chair Benefits
You strengthen the muscular corset (muscles of the press, lower back). This makes it possible to perform most other exercises with the correct technique.
The work included additional muscles – buttocks, a waist, muscles stabilizers.
Hyperextension helps to strengthen the spine to eliminate the risk of injury, to form the correct posture.
Exercises tone the body and improve blood circulation
The best Roman chayks are multifunctional and allow you to perform additional exercises for ABS and other muscle groups
What Muscles Work With Hyperextension?
The main exercise on the Roman chair is the hyperextension. From the angle of inclination of the equipment, the stress of the load will depend. In most cases, the following muscle groups will be involved.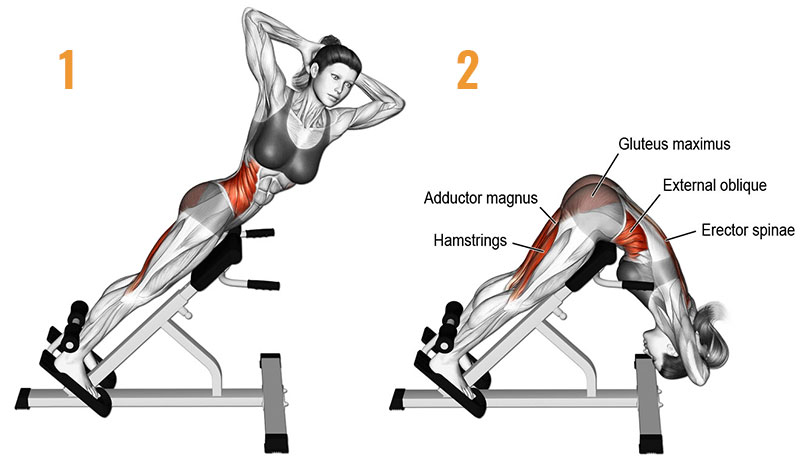 Roman Chair Workout Routine (Sample)
The frequency and intensity of your workouts may vary depending on your training goals. In addition, the choice of exercise affects the features of your roman chair or the availability of additional equipment.
But in General terms, the set of exercises can be as follows:

| | |
| --- | --- |
| Workout for the whole body and lower back | about 10 minutes before sweat appears |
| Roman Chair Trunk Extensions | 2-3 Х 10-20 |
| Roman Chair Sit UPS | 3 Х 15-20 |
| Twisting Roman Chair Hyperextension | 2-3 Х 10-20 |
| Isometric Glute Hold | 3 Х 1-2 min |
| Other additional exercises | Leg Raises, plank |
The frequency of training may be different. Usually just 2-3 workouts a week. Do not overload the lower back. Use the warm up with every workout. After training it is useful to stretch the muscles.
Summary
Definitely, call the leader of a difficult, we would, first of all, drew attention to the Fitness Reality or Bodykraft. But wishes and physical parameters can determine a different choice.If you have any questions that we did not address in this review – write a comment, we always help wounds.