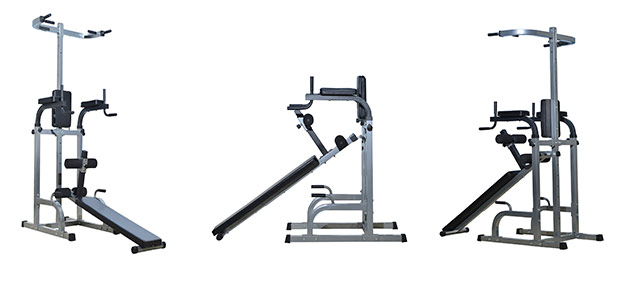 Soozier Power Tower Home Gym Fitness Station with Adjustable Sit Up Bench – this is multifunctional equipment for fitness training at home. The main advantages of this model is a huge weight limit of the user which it stands. An additional option is the availability of Adjustable Sit Up Bench for ABS exercises.
Soozier 80″ Product Description
Such capabilities will make a home workout more varied and effective. The upper part of the power tower and additional bench removable. They can be removed when not in use. Fixation elements are simple and reliable. When training equipment with maximum stability.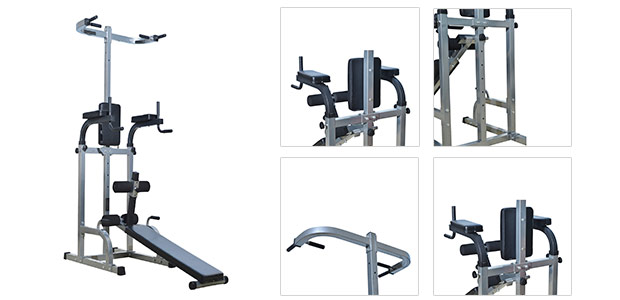 Brand
Soozier
Overall size
69″L x 35″W x 80″H
Bench dimensions
43.5″ x 9.5″
Max weight capacity:
660 lbs
Weight:
112 lbs
Material:
Sewn Vinyl cushion, PP handle
CHECK PRICE
Workout with Soozier Power Tower
The Soozier 80″ Full Body Power Tower Home Gym Fitness Station is made of high quality. All parts are durable, conveniently located. Offered everything you need to workout upper body using your own weight.
Basic exercises:
Pull ups for your back and arms. To run you have two options grip. Horizontal bar, there is a special grip. It's good – the bar does not interfere when you are performing dips. But the width may not be convenient for everyone and there is no way to catch up narrow grip, sometimes it is necessary.
Dips for your shoulders and triceps.
Pushups with special handles for chest muscles, arms, and shoulders
Leg raises workout for your ABS. This provides a soft comfortable backrest and armrests.
Exercises with adjustable sit-up board – twisting of the body, do leg lifts lying down. More challenging and effective workout for the core muscles. The angle adjustment will allow you to increase or decrease the difficulty of the exercise.
With exercise 30 – 40 minutes after a month of regular workouts to replace the first results in increasing endurance and strength. The quality and reliability of the equipment allow the user to perform exercises focusing on technique. When using the bench legs are fixed special ergonomic cushions. An important advantage is the possibility to adjust the distance between the rollers by the user.
Pros
Adjustable Sit Up Bench
Max weight capacity: 660lbs
Easy to assemble, disassemble and store
Good build quality and durability
Multi-functionality and additional features training
Cons
The price is a little expensive
For pull-UPS provided arms and no bar – no opportunity to catch up with a narrow grip.
This model is best for You would be if You need the high strength and stamina. In addition, Soozier 80″ Full Body Power Tower will allow you to combine the power tower and bench press. If You care about training ABS is a good opportunity to get everything in the complex. We can recommend this equipment for purchase. Most of the comments found in most popular retail stores and in communities positive. We wish You success in training.