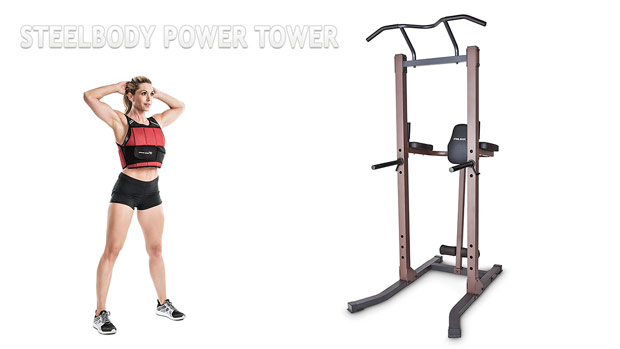 Steelbody Power Tower – an interesting model that drew our attention to some features. This model represented a well-known manufacturer of fitness equipment company Marcy. High-quality workmanship can be seen in the sturdy frame, comfortable handles, and armrests. So let's take a closer look at this model and decide whether to buy it for the home gym.
General Description
| | |
| --- | --- |
| Model | Steelbody STB-98501 |
| Dimensions | 58.2 x 91 x 42.2 inches |
| Weight: | 120 pounds |
| Color | multicolor |
| Maximum user weight | 350 lbs |
The SteelBody STB-98501 Power Tower when its strength is not much space. This is perfect for a small apartment. The compact did not affect the convenience of the implementation of any possible exercise. For this we used the feature of the design. Bars for dips do not come forward as in conventional models. They shifted back. In most cases, this improves the usability of the power tower.
Steelbody STB-98501 Manual
Assembly and use of equipment will not cause special difficulties. To simplify the problem, we have prepared instructions for downloading in PDF format. We recommend you to read them before purchasing the power tower.
What you need to pay attention


1. Multi-grip pull-up bar – it's curved and allows you to perform pull-UPS different grips. You can change the options exercises for different muscle groups, or for the convenience of hands.
2. Adjustable Push up bars – You can determine the most suitable height of the handles for push-UPS, or to change it in the process of training.
3. VKR arm pad – padded armrests and backrest with high-quality upholstery for a more comfortable exercise.
4. Leg hold down foam roller – comfortable cushion to perform additional exercises for the abdominal muscles
5. The mount for the rubber expander – will consolidate and use the rubber strip for additional exercises. It is also possible to simplify the securing rubber Lenka pull-UPS and use them for easier upgrade.
Steelbody Power Tower Workout
In the user manual there is an example of exercise program with this equipment. There is a very good tips that we recommend that You use. It is recommended not only to practice but also to lead your lifestyle in order. To arrange the diet, drink plenty of water, to respect the day.
"To achieve the greatest benefit from exercise, it is important to develop an exercise program that allows you to work all of the major muscle groups equally"
In this, we fully agree. The training process needs to be streamlined. You need to plan how the training and they're content.
To avoid injury, always recommended to perform the warm-up. This will greatly reduce the number of injuries and sprains and make training more effective. Fix the workout results in Notepad, or install one of the applications in the smartphone. This will give You extra motivation.
Video Review of Possible Exercises
Now consider the main advantages and disadvantages of this model:
Pros
Multifunctional horizontal bar for pull-UPS
Heavy duty steel construction
Max. user weight: 350 lbs
Removable handles for dips and pushups with adjustable height mounting
Sit up assist foam rollers
Cons
If you are overweight it can be awkward to perform dips
Some users called the cost is high