Stamina 1690 Power Tower one of the most popular home gym equipment. It is cheap, easy, practical and functional that makes it very popular. You can do pull-ups, knee raises, triceps dips, push-ups and many other exercises.
At the moment it is one of the most popular and purchased models of the power tower. The main advantages are cheap price with excellent quality. The manufacturer is a well-known brand Stamina which makes of fitness equipment.
This is a real best-seller which is purchased by private buyers for home use and gyms. An optimal combination of its size, weight, capabilities. Low price doesn't mean limited capabilities or poor quality. Has everything you need to perform basic exercises and high-quality home workout.
Stamina 1690 Power Tower Dimensions:
| | |
| --- | --- |
| Brand | STAMINA |
| Length/Width/Height | 42,5 in./49 in./81 in. |
| Item Weight | 61 lbs |
| Weight Limit | 250 lbs |
| Material | steel frame, foam hand grips |
| Product Color: | grey, black |
Description
Consider the main features, advantages, and disadvantages of this equipment. Determine who will suit this model.
Stamina 1690 PDF Manual for Assembly:
After purchasing and receiving the equipment Assembly can be performed independently. For this, You will need some special equipment or tools. Prepare some free space, the screwdriver and read the instructions.
Assembly will not take much of your time. Free place to conveniently arrange all the components, determine the availability of all the components and start Assembly. Separate the bolts by size in order to correctly use them when mounting. Well if you have an assistant. To simplify the problem, let's see what elements is the equipment. Detail described in the instructions. All main parts are shown in the figure below.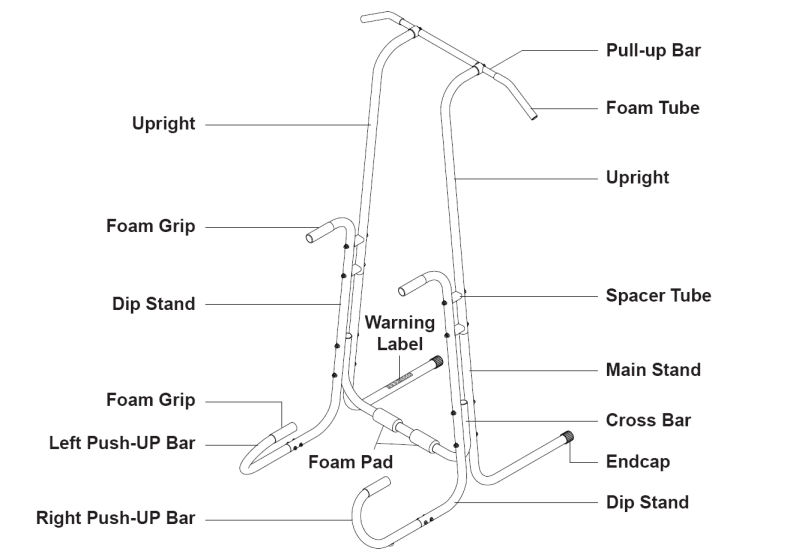 Maybe it is worth to think where to place the power tower. For greater stability, you can use a special Mat. It will reduce wear and tear on the floor. It will be less slip. Good stability ensures that the shape of the power tower. It is wide at the bottom. This allows it to be stationary even at maximum load. This makes possible to conveniently do push-UPS and doing exercises for the abdominal muscles. However, the frame is not rectangular and handles for dips located at a convenient distance.
All handles non-slip closed with a comfy covering. So your hands will not slip and will not be injured during exercise. The height of the horizontal bar allows you to comfortably perform pull-UPS. Non-slip end caps prevent sliding the power tower on the floor. This adds stability and doesn't harm the floor.
Stamina 1690 Power Tower Exercises:
Stamina 1690 power tower weight limit is 250 lbs. Should take this into account when buying training. You should not perform exercises with additional weights if Your weight is close to this limit.  Be sure to warm up for five to ten minutes prior to the start of basic training. No matter you are a beginner or an experienced athlete. You should warm up your muscles and ligaments to prepare the body for stress. After a workout does some stretching – this will reduce injury and increase training effectiveness. Some tips, for this reason, You can find the manuals, which you can download from the link above.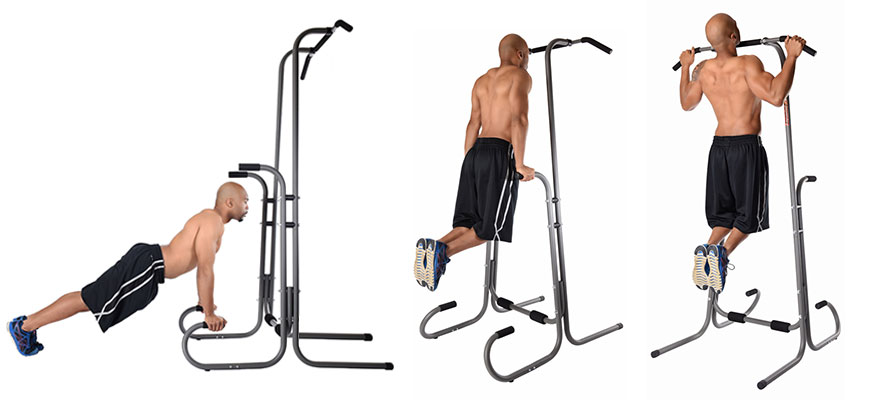 1. Push-ups two types of grip – wide for chest muscles, narrow hand, and deltoids. A good basic exercise. It is performed by both beginners and professionals. Using the options of push-UPS you can shift the load. For greater effect, you can use a series and combination of exercises.
2. Triceps dips a good exercise for the triceps, deltoid and chest muscles. Easy to hold balance with comfortable handles. Exercise also traumatic. Therefore, it is recommended to perform it in the middle of a workout, it's good to warm up the muscles and ligaments. It is important to perform the exercise with good technique, as improper execution can also lead to injury.
3. Pull-ups basic exercise for the back muscles. Do different grips for greater effect. This exercise is best for back development. It is performed slowly, without rocking. Also, you can use Stamina Rotating Handle Set and increase the number of exercise options.
4. Vertical Knee Raise strong core muscles, beautiful abs. Complete this exercise with hanging leg lifts on the bar. All want to have beautiful abs, but few want to work. If you have this equipment You will be able to perform exercises regularly. For the abdominal muscles can also do crunches. But you also need to normalize your meals. Combining the two components you will succeed.
You can also perform additional exercises. Hanging on the bar, you can perform leg lifts for the abdominal muscles. It is possible to perform static exercises. Applying additional handles and straps TRX you can perform a number of exercises.
In the General instructions, there is a section which shows how to perform basic exercises – starting and ending body position, technique. Completing the exercise you must cool down. This special relaxation exercises which bring the body in normal condition, normalizing heart rhythm.
Features of the Stamina 1690
Maybe the more expensive models can be more functional, but in its price range – this model is one of the most popular. Maybe the more expensive models can be more functional, but in its price range – this model is one of the most popular.

light weight – it can move even a girl
acceptable price
takes up little space
convenient handles
a small weight limit
can be displaced during fast exercise
Here are some users who purchased this model share photos: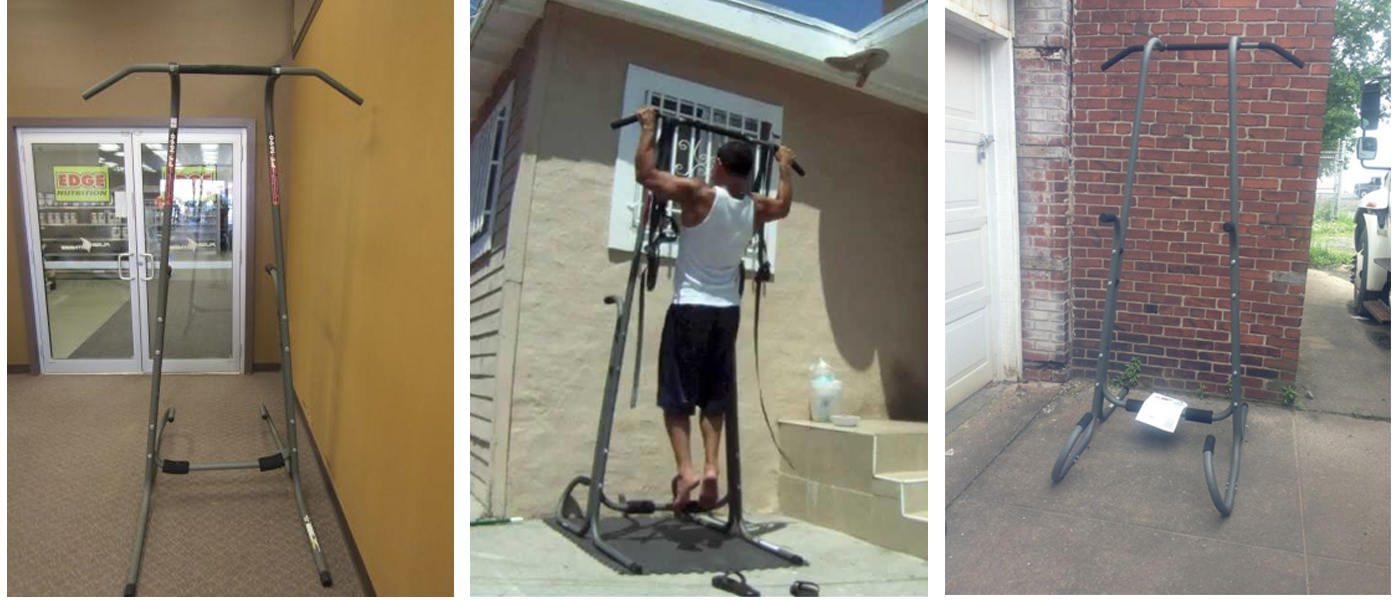 Sam Braun – Fitness Trainer: "This is the most simple and practical trainer for everyone. Anyone can afford to purchase such prices. Exercise regularly and stay healthy with Power Tower.
Bodyweight exercises are effective and do not require additional equipment. Though if necessary they can be combined with other exercises: free weights, jump rope, running, sandbag. Add to this proper nutrition, and You will definitely get the result.
The presence at home of such equipment will allow you to exercise systematically. This will give better results than an infrequent workout in a gym.
Stamina 1690 Power Tower review video:
Оwner reviews
Most of the users happy with the Power Tower. There are more professional models, but most often this feature was enough. Many positive comments.
Craig Lee: It came really quick and packaging was okay. On any, this thing is made of is very strong and it can hold up to 250 lbs. This is a good option for me and so great price.
James: After reading and reviewing many pull up stands, I decided to go with this one. It meets my expectation so far, and it has been a nice addition to my home gym.
Willie DaredevilI just put mine together and it's very sturdy! Great deal for this price. There were difficulties with the delivery but quickly sorted. I was pleased with the purchase
This brand represents high-quality fitness equipment – all products on their website www.staminaproducts.com. Many models are very popular. So you should not worry about the quality. It is a proven and reliable manufacturer. Over the past 20 years on the market, they only represent the quality and variety of fitness equipment. Among their products collapsible dumbbells, rowing, stationary bikes, treadmills, and more.
If You don't need more possibilities and less than Your weight limit 250 lbs this embodiment, the power tower is a good choice for home workouts. It is well suited for beginners who will lightweightbasic features for training.
Also, light weight is perfect to use girls training home. It is easy to move and in most cases will not experience difficulties with the limit weight. We can recommend this equipment for purchase. It will allow You to regularly perform exercises with its own weight and reach a good physical form.