The Body Power Deluxe Multifunctional Power Tower – fitness equipment for home workouts with own body weight. Includes power tower and additional straps for training. Handles are height adjustable, which gives the opportunity to perform additional exercises.
Brand: Body Power
Length: 48 in.
Width: 48,5 in.
Height: 83,6 in
Weight: 85.5 lbs
Weight limit: 250 lbs
Color may vary – currently in stock we've found the white model and the equipment in black color.
The main advantages and differences:
Multi-functional training engages multiple muscle groups including: quads/glutes, biceps/triceps, lats/pecs, delts, and ABS for a total body workout
Sturdy steel construction with sliding Adjustable back roller
Includes handgrips, Sling straps, and cushioned back roller
Versatile machine supports 19+ gym-style exercises such as: pull-ups, chin-ups, knee/leg Raises, dips, ab curls, sit-ups and more in the comfort of home
Part of the capabilities provided by design features: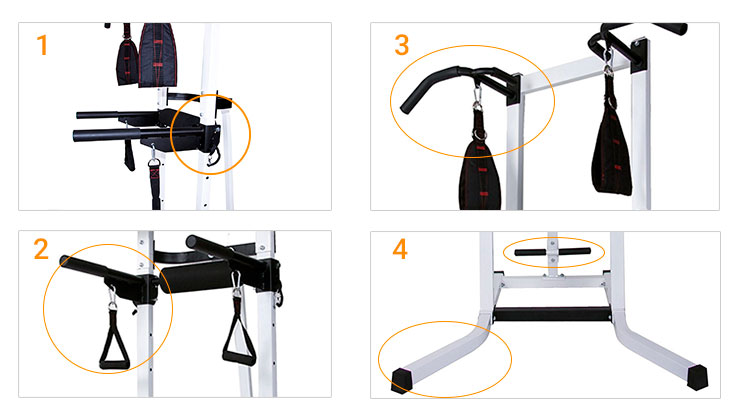 Handle move the height and allow you to perform various exercises
Special durable straps allow you to carry out exercises on the principle of TRX loops
Upper arms will allow you to catch a variety of grip, and attached to them the top tether for additional exercises
In the lower part there is a possibility to fix the legs to perform the workout of the abdominal muscles. Legs are made so that the design power tower has a higher resistance.
Body Power Workout
This model is much more functional such alternatives. It is possible to train your arms and back by performing pull-ups various grip. For chest muscles possible push-UPS and exercises with the straps. To accommodate variations triceps dips. Also, there are a number of variants of training of abdominal muscles. Using a footrest can perform exercises for training the legs.
More opportunities of training is demonstrated in the following infographic:

Body Power Multi-Functional Power Tower is a budget model but its functionality makes up for it. We can recommend it, provided the small weight of the athlete.