If You are looking for a really powerful model of the power tower model which we consider today – one of the best options. In addition it will be convenient for those whose weight is large.
If you a big powerful athlete, then You need a durable reliable design easy maintaining Your weight. If you are a beginner, in order to begin to catch up with a large weight will be useful for You the ability assistant lift.
Add strength, size and definition to your training program with the XMark Vertical Knee Raise Power Tower Powerbase XM-7632-34. The power tower includes a split grip pull up station, dip station, vertical knee raise (VKR) station and a weight assist attachment.
Parameters
| | |
| --- | --- |
| Brand: | XMark |
| Dimensions: | 64 x 29.5 x 82 inches |
| Shipping Weight: | 320 pounds |
| Weight capacity | 600 lbs |
| Color: | Gray |
General Description
The weight assist attachment includes 4 weight assist bands to assist in dips as well as narrow parallel, narrow and wide pull-ups. The vertical knee raise stability handles can be folded flat to easily perform pull-ups without obstacle. The weight assist attachment is adjustable with 3 pop pin adjustments. The back, arm and weight assist cushions feature extra thick 3" Duracraft padding covered in sweat and tear resistant Duraguard Vinyl. With its ergonomic design, rugged construction and multiple stations, the XMark Power Tower is a powerful force designed for a true body sculpting experience.
Features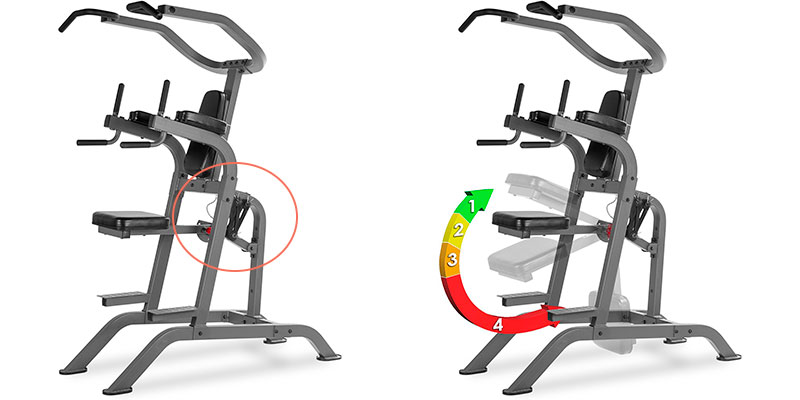 Includes vertical knee raise (VKR), pull-up station, dip station, and weight assist attachment
Split grip pull up station for narrow parallel, narrow and wide grip pull ups
Weight assist attachment with 4 weight assist bands with 3 pop pin adjustments
Tricep dip handles spaced 22" apart
Extra thick 3" Duraguard cushions
Tear and sweat resistant Duraguard vinyl
Bolted on skid resistant feet
Scratch resistant, baked powder coat finish
The quality and power. This is the first, how to describe this equipment. All to every detail made firmly and solidly. It is very stable. Convenient! Very useful to be able to do the exercises with. And not only for beginners. When you are already in good shape harder to surprise your muscles. After completing the main campaigns, to finish off your muscles for more exercise on the maximum number – it's like a pump. Try it, You'll like the result.
The disadvantage is the large weight of the structure, the frame is heavy and You will not be able to easily move it around the apartment.
Assembly
The equipment is quite heavy. It comes in several boxes. Would be great if You have one or two assistants for the Assembly. In this case, You will require about three hours and the equipment is ready for use. Recommend the use of dense mats as substrate (For example XMark Fitness XMat Ultra Thick Equipment Mat).
XMark XM-7632-34 Power Tower Exercises
This model is the power tower enables you to perform gladly additional exercises in their workouts. For taking the starting position, there are special steps.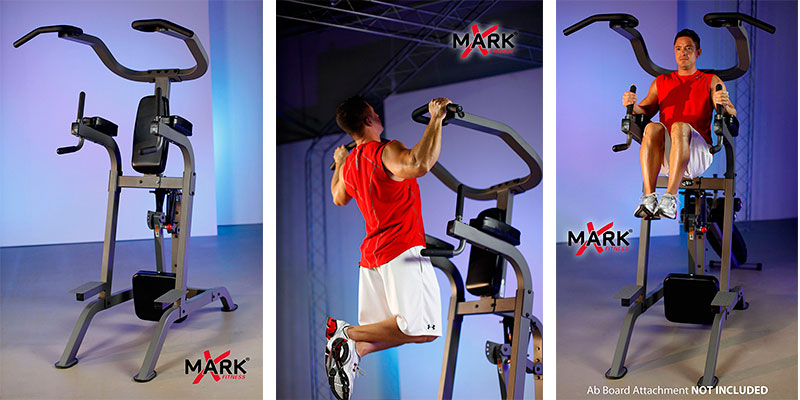 Over 30 exercises available here are the main:

Pull – UPS- can be performed with various grips. Handles are comfortable and allow you to use at least three grips.
Dip station. An excellent exercise for development of muscles of hands. Convenient handles make it easier to get results.
Knee-raise station. Padded armrests and non-slip grips allow you to perform lifts knees and feet. In addition to the upgrades possible foothold (static exercise). Handles are easily removed when performing other exercises.
Extra durable bench (can optionally connect) for performing sit-UPS when training the abdominal muscles. Special soft fasteners for fixing the feet. To save space you can remove it if no longer needed.
Weight-assist attachment. This particular accessory consists of a steel bar with a square pad, offering support for pull-ups or dips, for users who cannot lift their entire bodyweight. This attachment includes 4 elastic bands, which subtract approx. 25 lbs of the user's weight each. They are useful for pull-UPS or Dips.
Video Review
Summary
The overall impression of the XMark XM-7632-34 is very positive. Yes it is not cheap, but it is worth the money. Trainer is very high quality and can be used with a large weight. In addition to this model there are very good warranty. I can recommend it.