The Stamina Outdoor Fitness Power Tower Special model fitness equipment for outdoor workout. Made with paint, capable of mounting bases. Durable frame makes the power tower is durable. Upper body exercises and core training can now be performed outdoors in the fresh air and sunlight!
She is very strong and durable. Withstands high loads and designed for the appropriate conditions of use. It can be easily placed in any convenient location. In the backyard, she's taking not so much space.
Additionally it is perfect for your garage gym. Maybe in the yard or garage can be easily mounted bar for pull-UPS. But due to the versatility the power tower you will get a space savings.
Stamina 65-1460 Outdoor Dimensions:
| | |
| --- | --- |
| Brand: | Stamina |
| Dimensions: | 49.0 in. x 50.0 in. x 81.0 in. |
| Shipping Weight: | 88 lbs |
| Weight capacity | 300 lbs |
| Color: | green |
| Material: | steel |
General Description
This model is very popular as it does not require any special maintenance. Occupying little space can be moved to any convenient location of your choice. Any free corner of Your yard can become a place for training. You will be able to perform all basic bodyweight exercises. It will be convenient at any time convenient to You.
This model is easy to assemble and operate. Everything you need for Assembly comes in the kit. You'll need a minimal set of tools. The Assembly will take a long time it will be more convenient to build together with someone together. For secure mounting and maximum stability it is recommended to use bolts and anchor. To make it easier to build, we have prepared a manual in pdf. You can download it at the link
Using manual you want to allocate bolts for different parts, so as not to confuse them. The manual clearly shows how and in what sequence you need to connect all the pieces. This is a very durable equipment. Manufacturer's warranty is 90 days on parts, 3 years frame.
Main parts of Stamina Outdoor Fitness :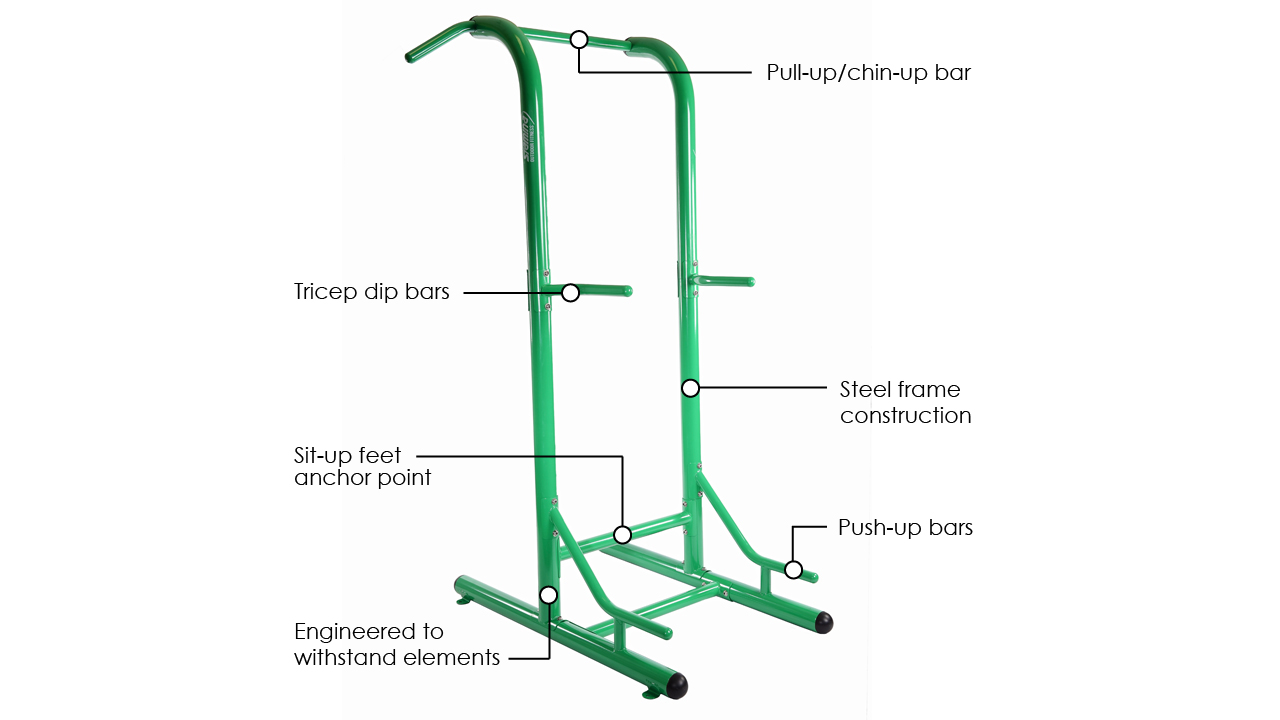 Despite the heavy-duty frame, the manufacturer warns that the equipment should be used by only one person at a time.
Stamina Outdoor Fitness Workout Exercises
1. DIP STATION – great exercise for training the arms. Most weight get muscle triceps. Basic exercise for athletes of any level. A convenient width handles to perform the exercise. Pull-Up bar does not interfere with the exercise.
2. PULL-UPS – Basic exercise for the back muscles. Also developing the muscles of the arms, the deltoid muscle. It is possible to use different grips to spread the load. You can perform pull-UPS forward and reverse grip training biceps and triceps, wide grip development of width of the back.
3. PUSHUP STATION – use special handles for comfortable push-UPS. A good exercise for pectoral muscles and triceps. The exercise can be performed based on a special handle or cross bar.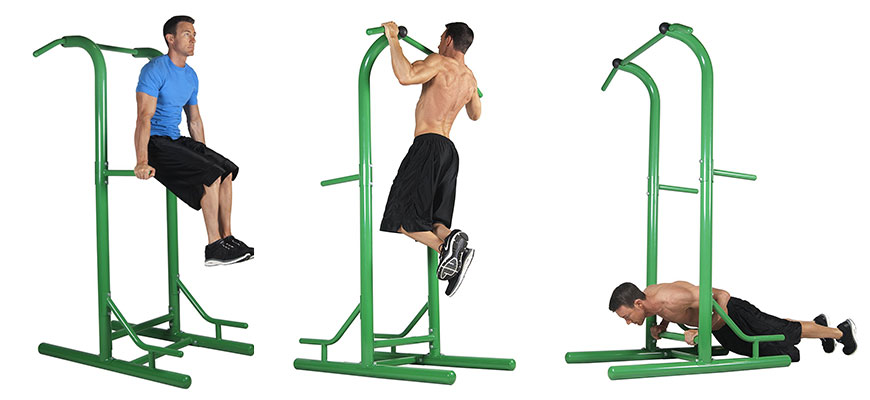 4. CRUNCHES for abdominal muscles. A good exercise for the core muscles, a strong Foundation for the entire body. Also for the abdominal muscles it is possible to perform vertical knee raise.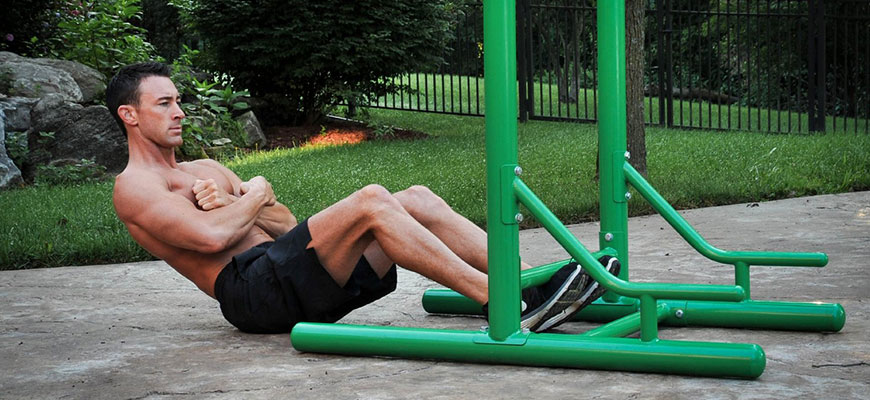 Starting a workout is necessary to consider their fitness and health. Special attention should be paid to the workouts and Your heart rate. Is to begin with the lighter exercises with lesser intensity. Initially, you'll tire quickly, but will gradually increase endurance and improve performance. Your results will gradually grow.
To the intensity of your workouts, you need to consider heart rate. You can just measure the rhythm of the pulse or to use a special heart rate monitors. In the accompanying statement above shows a table based on age and heart rate zones. The use and registration of the pulse areas, while training also allows you to effectively exercise and lose weight.
The manual also gives recommendations on the implementation of warm up and stretching of muscles. Shown technique exercises with Stamina Outdoor Fitness: dips, Push-ups, Lat Pull-ups, Vertical Knee Raise, Sit-ups.
Features of the Power Tower
The best model for training on the street. Fresh air for a more productive workout – what could be better. In addition to good weight limit. For athletes of medium and small weight it is possible to use the weights. Maximum stability is ensured by the ability to mount and sturdy frame.
large weight limit
the possibility of training outdoors
Quality
Stamina Outdoor Fitness Power Tower Overview
Оwner reviews
Stamina Outdoor Fitness Power Tower – complete upper-body outdoor workout equipment.
Cyrus Benitez: I have a similar model in the garage. I can always squeeze in a little exercise when you have a spare minute.
Otis Hargrove: I weigh 250 lbs and have no problems with the stability of the power tower. A great option for me. I'm happy
Keith Hosley: Cool gift for my birthday. Now I can train at home. Conveniently placed this equipment in the back yard.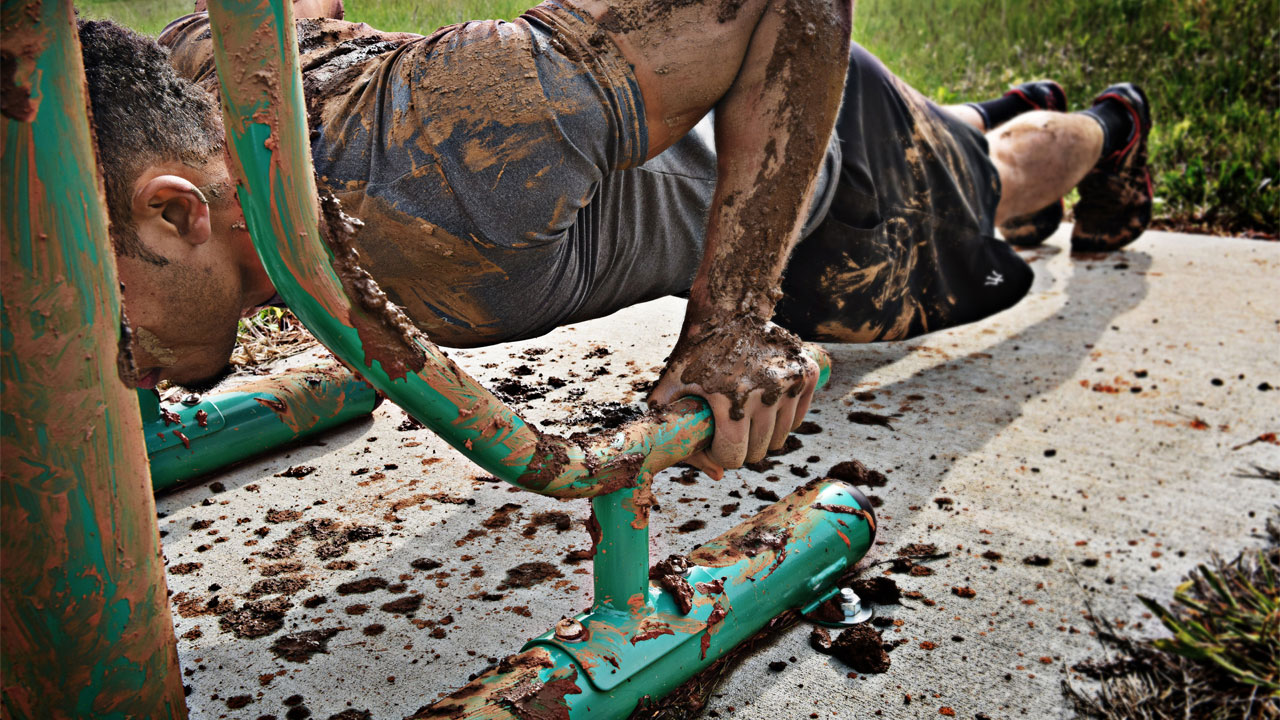 The quality of coverage takes into account that the equipment will be used not only indoors but also outdoors. It reliably painted and can without difficulty to resist the effects of the environment. It can be placed in the garden, backyard, gym, garage. Wherever there was a place, it will be busy very useful.